News Search:
Tuesday, June 30th 2015
Today's Reviews
Keyboards
Mouse
PSUs

The Storage Products Business Unit of Toshiba America Electronic Components, Inc., a committed technology leader, announces a new, high-capacity addition to the MC04 Series launched in May of last year. The 6TB version of the MC04 Series of enterprise high-capacity HDDs is designed for bulk storage systems and servers supporting cloud-based applications and scale-out workloads. With an industry standard 3.5-inch form factor, the MC04 Series delivers 7,200 revolutions per minute (RPM) performance, enabling suitable service levels for high performance cloud-based applications and storage.
Toshiba's highest capacity enterprise cloud HDD delivers a 20 percent increase over the previous generation's 5TB capacity, enabling more efficient high-density, high-growth storage for multi-petabyte rack deployments. Furthermore, the newest addition to the MC04 Series improves ROI for scale-out storage solutions with a 20 percent increase in power efficiency (TB/W) over previous generations, enabling more cost-effective delivery of cloud storage services.
GIGABYTE released a new super-compact dual-fan WindForce 2X VGA cooling solution, and launched a pair of GeForce GTX 960 graphics cards featuring it. The cooler allows the card to have a length of just 18.1 cm. These include the 4 GB N960OC-4GD and the 2 GB N960OC-2GD. Both cards come with factory-overclocked speeds of 1190 MHz core, and 1253 MHz GPU Boost (against reference clocks of 1127/1178 MHz), with 7.00 GHz memory. The cooling solution consists of a single 8 mm-thick copper heat pipe, which passes through the center of the heatsink base, projecting out in an "S" shape, and passing through two ends of an aluminium fin stack. It's ventilated by a pair of fans. The card draws power from a single 6-pin PCIe power connector. Display outputs include two dual-link DVI, and one each of HDMI 2.0 and DisplayPort 1.2.
To meet demands from professionals and enthusiasts with high performance storage demands, SilverStone created CPS03, a cable designed for Mini-SAS devices. With sideband connection (SGPIO) feature, the CPS03 is designed for always on and reliable operation with servers or workstations. On both ends of the cable are 36 pin SFF-8087 connector and SATA 7 pin * 4 (target device) with Sideband connector made out of industrial-grade material with weave sleeving for robust and trouble-free connections. Finally, CPS03's supports a four lane design to provide top performance for any professional SAS or SATA storage systems.
Monday, June 29th 2015
Today's Reviews
Belkin, a trusted leader of technology solutions for office, classroom, IT infrastructure, and mobile environments, today announced availability of its new Universal HDMI to VGA Adapter Kit with Audio, the only branded, multi-purpose adapter kit that gives existing legacy equipment complete compatibility with new digital devices.
Today's classroom is a mixed technology environment comprised of legacy VGA equipment (e.g., old projectors, early-generation interactive whiteboards) and new HDMI-enabled devices (e.g., iPads, Apple TV, Chromebooks). Budget constraints can restrict the purchase of new equipment, forcing educators to use what the school currently has available. There is no easy way to integrate existing equipment with new devices, creating a disconnect that hinders collaboration in the classroom.
NVIDIA released a GeForce driver update, version 353.38 Hotfix (not WHQL signed), that addresses a software bug that affects users of the popular Google Chrome web-browser. Users of the GPU-accelerated web-browser have been reporting crashes (both of the browser and display driver), and app freezing. The driver also addresses the issue of slow startup and window-switching of apps with G-SYNC enabled. The rest of its feature-set is carried over from the 353.30 drivers.
DOWNLOAD
NVIDIA GeForce 353.38 Hotfix
TechPowerUp's foray into the YouTube medium can be led by you. Yes, you! Do you think you can talk hardware and gaming in front of a camera, for our thousands of readers? If so, sign up for our TechPowerUp YouTube Channel project, and you could be the face of this site on YouTube. All you need to be, is aged between 21 and 30, based in US or Canada; be presentable (we're not too strict on this), and have a good command over English, with an easy international accent; have basic video editing skills, and most importantly, have a good aptitude with PC hardware (you needn't be too technically sound or have a formal education in this area).
Upload a sample of your work, while keeping it "unlisted" (eg: describe a piece of hardware, or explain a recent news story at length, while keep it interesting. We are interested in seeing your face, personality and speech), and e-mail a link to that video to
w1zzard@techpowerup.com
. You needn't be a regular forum member of TechPowerUp. Do not post links to your videos in the comments. We will get back in touch with shortlisted candidates to talk turkey.

Micron Technology announced during its Q3 FY-2015 earnings call, that it began shipping GDDR5 memory chips based on its 20 nm-class node. The company is reportedly shipping 8 Gb (1 gigabyte) GDDR5 memory chips. The company was last reported to be acquiring Japanese DRAM major Elpida, which also supplies GDDR5 chips to graphics cards, notebooks, and game console makers. The GDDR5 memory space has been saturated by companies such as Samsung and SK Hynix. The memory standard itself is on the brink of becoming obsolete; with AMD implementing HBM on its new high-end GPU, and NVIDIA expected to implement HBM with its upcoming "Pascal" GPU family. There is still quite a few GDDR5-equipped graphics cards to be sold, before HBM takes over GPUs of all market segments.
Source:
Kitguru
Summer is finally here; the sun is out, school is no longer in session and many families take the opportunity to take a vacation. Don't get stuck inside on a large laptop or desktop, make the most of your summer with a new portable Nextbook Flexx 10 from E FUN. Larger than a smartphone, yet smaller than a computer, this versatile 2-in-1 tablet makes the perfect travel companion for the entire family this summer. The Nextbook Flexx 10 is available now for under $200.
At 10.1", this Windows 2-in-1 is the perfect size to bring on vacation, so you can conveniently watch movies, play games, listen to music and surf the web on any flight or car ride. And with a 16:10 aspect ratio, you still get the high definition you've grown accustomed to. For those that want to be productive while traveling, the Nextbook Flexx 10 comes with a full-sized detachable keyboard, perfect for getting work done wherever your summer travels take you.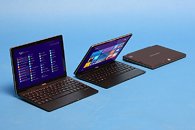 Friday, June 26th 2015
Today's Reviews
Motherboards
Mouse
Mousepads
Processors
Storage
This has been a roller-coaster month for high-end PC graphics. The timing of NVIDIA's GeForce GTX 980 Ti launch had us giving finishing touches to its review with our bags to Taipei still not packed. When it launched, the GTX 980 Ti set AMD a performance target and a price target. Then began a 3-week wait for AMD to launch its Radeon R9 Fury X graphics card. The dance is done, the dust has settled, and we know who has won - nobody. AMD didn't get the R9 Fury X wrong, but NVIDIA got its GTX 980 Ti right. At best, this stalemate yielded a 4K-capable single-GPU graphics option from each brand at $650. You already had those in the form of the $650-ish Radeon R9 295X2, or a pair GTX 970 cards. Those with no plans of a 4K display already had great options in the form of the GTX 970, and price-cut R9 290X.
The Radeon R9 290 series launch from Fall-2013 stirred up the high-end graphics market in a big way. The $399 R9 290 made NVIDIA look comically evil for asking $999 for the card it beat, the GTX TITAN; while the R9 290X remained the fastest single-GPU option, at $550, till NVIDIA launched the $699 GTX 780 Ti, to get people back to paying through their noses for the extra performance. Then there were two UFO sightings in the form of the GTX TITAN Black, and the GTX TITAN-Z, which made no tangible contributions to consumer choice. Sure, they gave you full double-precision floating point (DPFP) performance, but DPFP is of no use to gamers. So what could have been the calculation at AMD and NVIDIA as June 2015 approached? Here's a theory.
Image credit:
Mahspoonis2big
, Reddit
For serious gamers who thrive with a cloth mouse surface with more control ROCCAT adds a new gaming surface to its Taito Series. The expertly crafted Taito Control takes the award-winning blueprint of the original Taito and re-develops it with an emphasis on more precise control. At a comfortable mid-size of 400 X 320 mm and a design focused on extended durability, the Taito Control is a high-spec pad that won't let you down.

Most cloth mousepads try to provide gamers with a balance between glide and control, excelling at neither. For gamers who want a cloth pad with more control, there is no more need to compromise. The Taito Control features an exceptionally smooth surface with enhanced command. It is perfect for those who prefer a pad with more resistance. With just the right amount of glide on super smooth surface using only the finest materials, the Taito Control lets you consistently take out your foes time and time again.
Lite-On, a global leader in the design, development and manufacturing of enterprise Solid-State Drives (SSDs), introduces low latency M.2 PCIe drives to support I/O intensive workloads for one of the largest cloud service providers. Lite-On's EP1 series gives cloud service providers the competitive advantage by offering premium storage for its end users.
Lite-On's Gen2x4 M.2 PCIe SSDs are becoming widely adopted by the cloud computing industry. The M.2 PCIe interface EP1 series are compact, power-efficient solid-state solutions that fit directly into the server's PCIe bus to increase server application performance while delivering fast and reliable access to data without burdening the host CPU and memory resources.
Ozone Gaming, the international brand of high performance products for gamers , in collaboration with Origen Team, today announced launch of the exclusive Origen Mousepad. As part of the collaboration with the team, Ozone will developed the exclusive Origen line. " Be part of it" is a firm statement of intent from Ozone Gaming to intensify its commitment with the gamers involving them to the eSports competition and bringing them closer to the professional team.
"Ozone Gaming is not just a brand of this sector, we are an active entity that aims not only the growth of the company but of the eSports industry in general. Origen brings together all our enthusiasm, desire and effort to achieve that goal. This product line embodies all those feelings," says Adrian Alarcon, marketing director of the brand." Within the game is our slogan of a new era in our company, meaning that we're where the challenges take place, with the growth of the sector and with the competitive show of the century " concluded Alarcon.

PNY Technologies Inc. world renowned manufacturer of USB and Memory products announced the release of the new and compact HP v160. The HP v160 offers a convenient way to store, share and transfer all your digital media, files like photos, videos, music and more. The v160 comes in a secure plastic casing with classic blue and white pattern. The rectangular structure and easy grip makes it convenient to plug into the USB port with no hassle.
The HP v160 is designed with a protective cap to protect your files from any external damage. For additional protection the drive is resilient towards dust and water, which allows you to use the drive during all types of projects. The drive features a strap hole located at the head of the top of the drive to enhance mobility. Mobile straps can be used to create a stylish accessory or you can simply attach it to your Key chains, backpacks or wallets.
Loading more posts, please wait...