Hey everyone how's it going? I have a like new 4890 VaporX 1gb model i need to sell. Asking $160 OBRO
Manufacturer's link
http://www1.sapphiretech.com/us/prod...w.php?gpid=307
Timeline: I bought the card in May/June of '09 and it was DOA, sent it in for RMA and bricked the replacement when i hastily forgot to install the rubber insulator's when trying out an HR-03gt! So i sent it back in and the card was replaced a 2nd time ( Thank you Sapphire for AWESOME support!! )
By the time i finally got everything sorted out and the card/system up 'n running again it was late Oct and i only used it lightly since then untill i got a 5870 ~ 1 month ago. So there's really only about 7 month's use on the card ( I would say there is less than 15hrs video playback and less than 50hrs gaming ) I have all documentation for the RMA's and would be glad to help if any service is needed in the future as i believe there is still quite a bit of warranty left on the card.
The card come's in original packaging, with all the original accessories ( molex > 6pin x 2, CF bridge, DVi > HDMI, Driver/Power DVD playback/Power DVD suite disc's )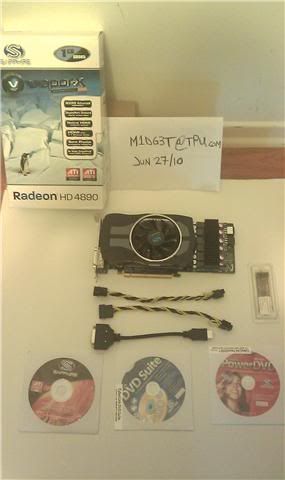 Heatware is under madmaxx, i haven' traded in a while but all my feedback is positive and i keep my stuff in top shape
__________________
Why dazzle 'em with brilliance when you can baffle 'em with bullshit.
Alterius non sit, qui potest esse sui!
Und setzet ihr nicht das leben ein, Nie wird euch das leben gewonnen sein!
If knowledge is power, then ignorance is bliss!
If god didn't want them sheared, he wouldn't have made them sheep!