News Search:
Tuesday, June 30th 2015
Today's Reviews
Keyboards
Mouse
PSUs
DeepCool introduced the Wave mini-tower case, designed for micro-ATX and mini-ITX builds. The case is characterized by a wavy design that run along its front facade, including a door that conceals some drive bays. The case features a top-positioned PSU bay, and with its drive cages occupying the top and central portions, this frees up room at the bottom (the expansion slot area) for graphics cards as long as 33 cm. The case also offers room for CPU coolers as tall as 14.5 cm. The DeepCool Wave offers two 5.25-inch, one exposed and three concealed 3.5-inch/2.5-inch drive bays. Ventilation includes a 120 mm front intake, a 90 mm rear exhaust, and a 90 mm side vent. Measuring 387 mm x 175 mm x 353.5 mm (LxWxH), the case weighs 3.2 kg, and is made of SECC steel and ABS plastic. DeepCool didn't announce pricing or availability info.
ORIGIN PC announced today NVIDIA's revolutionary G-Sync technology is now available on their EON17-X and EON15-X custom gaming laptops. By synchronizing the display refresh rates to the GPU, G-SYNC eliminates screen tearing, minimizes display stutter and lowers input lag to deliver the very best gaming experience possible and for the first time ever it's available on a laptop. Experience the smoothest and fastest gameplay ever with NVIDIA's G-SYNC display technology on ORIGIN PC's EON17-X and EON15-X high-performance laptops today.

AMD today announced that zSpace has chosen AMD FirePro W5170M graphics to power the new zSpace for Education enabling real world virtual reality in the classroom. Unlike other VR solutions, AMD FirePro professional graphics-powered zSpace for Education delivers interaction and group collaboration through a VR precision 'stylus' to naturally access the virtual experience matched with a head-tracking computer display in an innovative, all-in-one design.
The zSpace for Education solution features an easy-to-use interface that is natural and intuitive. zSpace will implement AMD's LiquidVR technology, harnessing AMD GPU hardware sub-systems to make the virtual reality experience as comfortable and as realistic as possible. "AMD is proud to work with zSpace to power their new real world virtual reality solution," said Sean Burke, corporate vice president and general manager, AMD Professional Graphics Group. "AMD FirePro professional graphics deliver the features and horsepower required for this innovative new product which requires exceptional visual performance."
ADATA Technology, a leading manufacturer of high-performance DRAM modules and NAND Flash products, today launches thePremier SP600NS34 M.2 2242SATA 6Gb/s SSD for Ultrabooks and desktop PCs. To meet the latest platform and users' expectations, "slimmer, faster, and power-saving", ADATA's Premier SP600NS34 features multiple functions to enhance efficiency, such as DEVSLP, BCH ECC technology, and Intel Smart Response Technology. If you are seeking a new solution to upgrade your Ultrabook, the Premier SP600NS34 will be a great choice with the best cost-performance ratio.

The Premier SP600NS34 comes in capacities of 128GB and 256GB, and adopts the smallest SSD form factor - M.2 2242, with measurements of only 22 x 42 x 3.5mm. However, the compact size does not sacrifice performance - with the JMicron controller, the sequential read speed of SP600NS34 is up to 550MB/s, and the maximum 4K random read/write performance is up to 75K/77K IOPS. The Premier SP600NS34 supports DEVSLP (Device Sleep) technology, helping to consume less power than traditional idle and prolonging the battery life at the same time.
Philips introduced the BDM3275UP 32-inch monitor, offering 4K Ultra HD (3840 x 2160 pixels) resolution. It embeds an IPS-AHVA panel, with 178°/178° viewing angles, 350 cd/m² maximum brightness, dynamic mega-contrast ratio, and 30-bit color (1.07 billion colors). The display takes input from HDMI 2.0, DisplayPort 1.2, and dual-link DVI. A headphones output (putting out audio from the HDMI/DP audio channels), and a 4-port USB 3.0 hub make for the rest of its feature-set. The company didn't reveal pricing or availability.

The Storage Products Business Unit of Toshiba America Electronic Components, Inc., a committed technology leader, announces a new, high-capacity addition to the MC04 Series launched in May of last year. The 6TB version of the MC04 Series of enterprise high-capacity HDDs is designed for bulk storage systems and servers supporting cloud-based applications and scale-out workloads. With an industry standard 3.5-inch form factor, the MC04 Series delivers 7,200 revolutions per minute (RPM) performance, enabling suitable service levels for high performance cloud-based applications and storage.
Toshiba's highest capacity enterprise cloud HDD delivers a 20 percent increase over the previous generation's 5TB capacity, enabling more efficient high-density, high-growth storage for multi-petabyte rack deployments. Furthermore, the newest addition to the MC04 Series improves ROI for scale-out storage solutions with a 20 percent increase in power efficiency (TB/W) over previous generations, enabling more cost-effective delivery of cloud storage services.
GIGABYTE released a new super-compact dual-fan WindForce 2X VGA cooling solution, and launched a pair of GeForce GTX 960 graphics cards featuring it. The cooler allows the card to have a length of just 18.1 cm. These include the 4 GB N960OC-4GD and the 2 GB N960OC-2GD. Both cards come with factory-overclocked speeds of 1190 MHz core, and 1253 MHz GPU Boost (against reference clocks of 1127/1178 MHz), with 7.00 GHz memory. The cooling solution consists of a single 8 mm-thick copper heat pipe, which passes through the center of the heatsink base, projecting out in an "S" shape, and passing through two ends of an aluminium fin stack. It's ventilated by a pair of fans. The card draws power from a single 6-pin PCIe power connector. Display outputs include two dual-link DVI, and one each of HDMI 2.0 and DisplayPort 1.2.
To meet demands from professionals and enthusiasts with high performance storage demands, SilverStone created CPS03, a cable designed for Mini-SAS devices. With sideband connection (SGPIO) feature, the CPS03 is designed for always on and reliable operation with servers or workstations. On both ends of the cable are 36 pin SFF-8087 connector and SATA 7 pin * 4 (target device) with Sideband connector made out of industrial-grade material with weave sleeving for robust and trouble-free connections. Finally, CPS03's supports a four lane design to provide top performance for any professional SAS or SATA storage systems.
Monday, June 29th 2015
Today's Reviews
Belkin, a trusted leader of technology solutions for office, classroom, IT infrastructure, and mobile environments, today announced availability of its new Universal HDMI to VGA Adapter Kit with Audio, the only branded, multi-purpose adapter kit that gives existing legacy equipment complete compatibility with new digital devices.
Today's classroom is a mixed technology environment comprised of legacy VGA equipment (e.g., old projectors, early-generation interactive whiteboards) and new HDMI-enabled devices (e.g., iPads, Apple TV, Chromebooks). Budget constraints can restrict the purchase of new equipment, forcing educators to use what the school currently has available. There is no easy way to integrate existing equipment with new devices, creating a disconnect that hinders collaboration in the classroom.
NVIDIA released a GeForce driver update, version 353.38 Hotfix (not WHQL signed), that addresses a software bug that affects users of the popular Google Chrome web-browser. Users of the GPU-accelerated web-browser have been reporting crashes (both of the browser and display driver), and app freezing. The driver also addresses the issue of slow startup and window-switching of apps with G-SYNC enabled. The rest of its feature-set is carried over from the 353.30 drivers.
DOWNLOAD
NVIDIA GeForce 353.38 Hotfix
TechPowerUp's foray into the YouTube medium can be led by you. Yes, you! Do you think you can talk hardware and gaming in front of a camera, for our thousands of readers? If so, sign up for our TechPowerUp YouTube Channel project, and you could be the face of this site on YouTube. All you need to be, is aged between 21 and 30, based in US or Canada; be presentable (we're not too strict on this), and have a good command over English, with an easy international accent; have basic video editing skills, and most importantly, have a good aptitude with PC hardware (you needn't be too technically sound or have a formal education in this area).
Upload a sample of your work, while keeping it "unlisted" (eg: describe a piece of hardware, or explain a recent news story at length, while keep it interesting. We are interested in seeing your face, personality and speech), and e-mail a link to that video to
w1zzard@techpowerup.com
. You needn't be a regular forum member of TechPowerUp. Do not post links to your videos in the comments. We will get back in touch with shortlisted candidates to talk turkey.

Micron Technology announced during its Q3 FY-2015 earnings call, that it began shipping GDDR5 memory chips based on its 20 nm-class node. The company is reportedly shipping 8 Gb (1 gigabyte) GDDR5 memory chips. The company was last reported to be acquiring Japanese DRAM major Elpida, which also supplies GDDR5 chips to graphics cards, notebooks, and game console makers. The GDDR5 memory space has been saturated by companies such as Samsung and SK Hynix. The memory standard itself is on the brink of becoming obsolete; with AMD implementing HBM on its new high-end GPU, and NVIDIA expected to implement HBM with its upcoming "Pascal" GPU family. There is still quite a few GDDR5-equipped graphics cards to be sold, before HBM takes over GPUs of all market segments.
Source:
Kitguru
Summer is finally here; the sun is out, school is no longer in session and many families take the opportunity to take a vacation. Don't get stuck inside on a large laptop or desktop, make the most of your summer with a new portable Nextbook Flexx 10 from E FUN. Larger than a smartphone, yet smaller than a computer, this versatile 2-in-1 tablet makes the perfect travel companion for the entire family this summer. The Nextbook Flexx 10 is available now for under $200.
At 10.1", this Windows 2-in-1 is the perfect size to bring on vacation, so you can conveniently watch movies, play games, listen to music and surf the web on any flight or car ride. And with a 16:10 aspect ratio, you still get the high definition you've grown accustomed to. For those that want to be productive while traveling, the Nextbook Flexx 10 comes with a full-sized detachable keyboard, perfect for getting work done wherever your summer travels take you.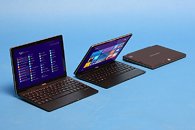 Loading more posts, please wait...