News Posts matching "Neutron"
Return to Keyword Browsing
Corsair gave its SSD family a much needed shot in the arm, with the Neutron XT line of performance SSDs. Built in the 7 mm thick, 2.5-inch form-factor, with SATA 6 Gb/s interface, these drives combine a Phison PS3110 quad-core controller, with modern 19 nm Toshiba A19 MLC NAND flash chips, over an 8-channel interface. The PS3110 brings innovations to the table, such as SmartFlush, which pushes inbound data to the flash, minimizing the chance of data-loss, in the event of a power failure. Other features include native 256-bit AES encryption, with TCG Opal 2.0 compliance.
Corsair Neutron XT comes in three capacities, 240 GB, 480 GB, and 960 GB. The 240 GB variant offers sequential transfer rates of up to 564 MB/s reads, with up to 547 MB/s writes. The 480 GB and 960 GB variants, on the other hand, offer up to 562 MB/s reads, with up to 542 MB/s writes on the 480 GB variant, and up to 532 MB/s on the 960 GB one. All three are rated with write endurance of 124 TB. Corsair also updated its SSD Toolbox software, with a refreshed user interface. It lets you manually optimize performance, update firmware, tweak overprovisioning, clone, erase, and monitor SMART status of the drive. Corsair didn't finalize pricing.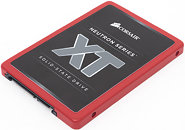 Source:
The TechReport
Without making much noise about it, Corsair retrofitted its Neuton GTX line of performance consumer SSDs with 19 nm Toggle-NAND flash chips made by Toshiba. The newer drives' model numbering scheme looks like "CSSD-NxxxGBGTX
B
-BK," where "B" denotes 19 nm Toggle NAND flash, and "xxx" denotes the capacity (120/240/480 GB). The MTBF on Corsair website appears unchanged, so does the 5-year product warranty, and rated P/E cycle count of 3,000. The Corsair Neutron GTX line of performance SSDs were launched in September 2012, originally with 24 nm toggle-NAND flash.
Hermitage Akihabara
Corsair, a worldwide designer and supplier of high-performance components to the PC hardware market, today announced that the Neutron Series GTX and Neutron Series solid-state drives (SSDs) are now widely available for purchase. Announced last June at Computex, Corsair's 4th generation SSDs have already won numerous awards, including the Tom's Hardware "Best of Computex 2012" award.

Neutron Series SSDs have continued to garner rave reviews from top experts in the PC and storage technology media. Prestigious awards include the HardOCP Editor's Choice, Storage Review Editor's Choice, HEXUS Performance, Tweaktown Editor's Choice, Hardwareluxx Excellent Hardware, and The SDD Review Editor's Choice awards.
Return to Keyword Browsing