News Posts matching "Snapdragon"
Return to Keyword Browsing
Futuremark is proud to announce that Acer Incorporated, Intel, Qualcomm Incorporated and SingTel-Optus have joined its Benchmark Development Program to create a new 3DMark gaming benchmark for Android-based tablets and smartphones. The Futuremark Benchmark Development Program gathers input and expertise from the world's best and most technologically advanced companies to create industry standard benchmarks for performance measurement. 3DMark for Android is expected to be released later this year.

Jukka Makinen, Futuremark CEO said, "For more than 10 years, we have worked with the world's leading PC hardware manufacturers to create 3DMark and PCMark. As a result, Futuremark benchmarks are the industry standard for PC performance measurement used by hundreds of press publications and millions of end-users. As we bring 3DMark to a new OS for the first time, we are excited to expand our cooperation to include Acer, Intel, Qualcomm and SingTel-Optus, technology leaders who will bring unparalleled insight, experience and vision to the development of 3DMark for Android."
Qualcomm Atheros Inc., the networking and connectivity subsidiary of Qualcomm Incorporated, today at COMPUTEX TAIPEI demonstrated the industry's first solutions that integrate 802.11ac Wi-Fi and Bluetooth 4.0 connectivity for tablets and notebook computers. Qualcomm Atheros' 1-, 2- and 3-stream solutions are part of the company's end-to-end 802.11ac ecosystem, which is driving Gigabit-class wireless connectivity in mobile, computing, consumer electronics and networking products.

As consumers use tablets and notebooks to create, download and stream media files over wireless networks, Qualcomm Atheros' 802.11ac solutions are designed to deliver connectivity with the speed and reliability essential to today's mobile computing environments. Qualcomm Atheros' 802.11ac offers more than three times the Wi-Fi performance of 802.11n per stream and is capable of delivering up to 1.3 Gbps PHY rates with the company's 3-stream solutions. The new solutions also feature Bluetooth 4.0 with low-power mode for connecting mobile computers to wireless keyboards, headsets, speakers, printers and other peripherals while also conserving battery power.
Qualcomm Incorporated today announced that its Snapdragon processor will be joining Microsoft Corp.'s Windows on ARM developer seeding program. Qualcomm is working with Microsoft to provide test PCs to select developers in order to test and optimize apps for forthcoming Snapdragon-powered Windows on ARM PCs and tablets. This invitation-only program will combine a pre-release version of Windows on ARM with next-generation, high performance Snapdragon S4 test PCs. These test PCs are not representative of commercial form factors or the final Windows on ARM experience; they are designed to give developers early access to building and testing Windows Metro style apps on Qualcomm's latest technology.
The Windows on ARM developer seeding program will help ensure that Windows Metro style apps available in the Windows Store work great on all Windows 8-based PCs, including those with Qualcomm's ARM-compliant Snapdragon processors.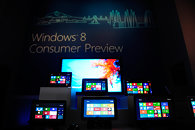 Return to Keyword Browsing