Tuesday, September 8th 2009
Coinciding with Intel's launch of socket LGA-1156 Core i5/Core i7 processors, Lexar Media announced four Crucial DDR3 memory kits certified to work with the new platform. The four are dressed in Crucial's vanilla design that makes use of green PCBs sans heatspreaders, which may not be required considering the low voltage these modules operate on.
Coming as 2 GB (2x 1 GB) and 4 GB (2x 2 GB) capacities, the new kits in ECC and non-ECC variants. All four operate at 1333 MHz, with CAS latency of 9T, and DRAM voltage of 1.5 V. Backed by lifetime warranties, the 2 GB kits sell for 37 EUR, while the 4 GB ones for 95 EUR.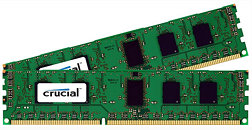 Source:
TechConnect Magazine