Monday, October 17th 2011
Japanese cooling expert Scythe is hereby announcing the improved version of its multi functional Kama Connect adapter. Scythe is steadily enhancing the product portfolio and pushes Kama Connect to the next level. Third version of Kama Connect is of special use to technicians, DIY users as well as end-users who own various drives and require fast access to their media and files.
Compared to Kama Connect PLUS which was equipped with an internal card reader, new Kama Connect 3 is built more compact and comes without the card reader. Key improvement is the support of new USB 3.0 Standard for Super Speed data transfer which was achieved by implementing new controller alongside with the blue USB 3.0 type B connector. In case the end device such as PC or Notebook lacks USB 3.0 support Kama Connect 3 will automatically switch down to USB 2.0 or USB 1.1 mode to assure wide range compatibility and safe operation.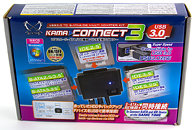 In order to allow easy monitoring of the connected drives an Access LED and a Power LED are located on the top of Kama Connect 3. In addition users are able to easily access the power switch to power up or down the connected drives. For convenient use Scythe Kama Connect 3 comes with all required cables allowing immediate operation of the device.
Kama Connect 3 (SCUPS-4000) can be purchased as of today throughout Europe for 33,90 EUR (excl. VAT/TAX). For more information, visit the
product page
.