Wednesday, February 1st 2012
Microsoft today launched Kinect for Windows, a unique gesture-recognizing input device it launched for the Xbox 360. Kinect for Windows enables a whole new kind of interaction with the software that's three dimensional and spatial, compared to the two dimensional input of mice, tablets, and trackballs.
Along with it, version 1.0 of the Kinect for Windows SDK (stable) was launched, enabling organized software developers to start working on applications right away. The new SDK also features several feature additions and improvements over previous beta versions. The general pricing of Kinect for Windows device is US $249, but it is also available at US $149 for qualified educational users.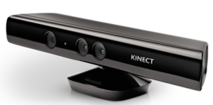 Source:
Kinect for Windows Blog