Friday, May 23rd 2014

Several online retailers began listing Intel's next wave of unlocked socket LGA1150 processors, ahead of their June 2014 launches. Among these are the Core i7-4790K, the Core i5-4690K, and the Pentium G3258. The series begins with the i7-4790K and the i5-4690K, which bear an exclusive codename, "Devil's Canyon." These are special hand-picked "Haswell" dies that feature higher voltage limits, and a higher-grade package, with special high-current LGA contact points, and a superior thermal interface material between the die and integrated heatspreader (IHS).
The i7-4790K is a quad-core chip, featuring HyperThreading (8 logical CPUs), HD 4600 graphics, 8 MB of L3 cache, and clock speeds of 4.10 GHz, with Turbo Boost frequencies of a staggering 4.40 GHz. The i5-4690K, on the other hand, is a quad-core chip that lacks HyperThreading, and features 6 MB of L3 cache, but respectable clock speeds of 3.50 GHz, with 3.90 GHz Turbo Boost. Both chips feature unlocked base-clock multipliers, support for higher memory frequencies, uncore clocks, etc. The Core i7-4790K is priced around US $370, on the stores it's up for pre-order. The i5-4690K, on the other hand, is listed around $250.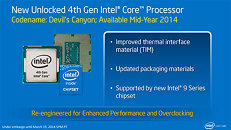 The surprise package here is the new Pentium G3258, which is an "unlocked" chip. The rationale behind launching such a sub-$100 unlocked chip, could have been the fact that 2014 marks the 20th anniversary of Intel's iconic Pentium brand, which made it a household name. The G3258 is based on the "Haswell" silicon, and is a dual-core chip that lacks HyperThreading, Turbo Boost, and AVX instruction-set. It still offers a respectable clock speed of 3.20 GHz, and 3 MB of L3 cache. The chip is priced around $80.