Wednesday, August 17th 2016

Intel is opening up its silicon manufacturing facilities to fabless chip-makers, beginning with the manufacture of ARM SoCs. The company entered a licensing deal with ARM that allows ARM SoC designers such as Qualcomm, Apple, and Samsung, to manufacture their SoCs at Intel fabs. Intel is among the first fabs with a working 14 nm node, and is on-track for sub-10 nm node development.
Intel had a crack at the market segments typically addressed by ARM SoCs, with its own x86 chips, which failed to see the kind of volumes ARM chipmakers were pushing. The company has now changed tactics to open its fabs up to those ARM SoC makers, letting them manufacture their designs on proven silicon-fabrication tech, in geographically important locations. Intel has its cutting-edge fabs located in Costa Rica and Malaysia.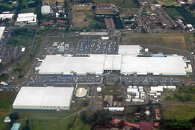 Source: Bloomberg