Friday, February 24th 2017
Earlier this month, Zenimax was awarded $500m when a jury found that VR pioneer Oculus had violated a NDA and illegally used code from the game publisher. That may just be the beginning of the legal ramifications facing Oculus however, as Zenimax has just asked the court to block Oculus from using the code involved in the court case altogether, potentially blocking the sale of a good number of games utilizing the technology of the Oculus VR headset.
Oculus is appealing the case, and calls the prior ruling "legally flawed and factually unwarranted." To their credit, the court did agree that while Oculus had violated a non-disclosure agreement, it did not find that they had committed the larger crime of stealing trade secrets.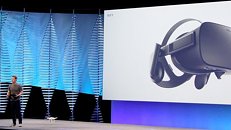 If the Judge grants the injunction, Oculus must write new code for their SDK to replace the Zenimax sourced code and it could affect several products in the meantime, including the Oculus Rift and Samsung Gear VR, all of which use the Zenimax sourced code.

Considering the fragile state of the VR industry in general, bad press and removal of products from market (if only briefly) certainly won't help anything. It is quite possible Zenimax will seek a settlement and this is just a means to apply pressure to Facebook and Oculus rather than a serious attempt to shut down the technology.

Source: BBC