Tuesday, March 7th 2017
ATP Electronics Inc reveals its new 3D NAND based SATA product line up on the Embedded World 2017 in Nuremberg. The products have gone through stringent chip as well as module level validation tests and will be manufactured using ATP's in-house self-packaging technology. Available form factors include 2.5", mSATA, SlimSATA and M.2 in various capacities, including intermediate densities such as 192 GB, 384 GB and 768 GB. The products will be showcased at ATP's booth in Hall 1, Booth #1-655.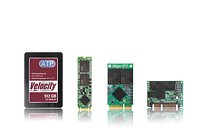 Benefits of 3D NAND compared to planar NAND:
Higher memory capacity: By stacking more layers vertically, greater capacities, such as 1TB, 1.5TB and 2TB, are made possible through 3D NAND.
Lower cost per bit: Compared to planar NAND, 3D NAND shows greater cost advantage as the capacity increases.
Increased longevity and supply flexibility through ATP's die packaging: Our high end manufacturing facility is capable of processing NAND wafer dies into ATP's own SDP, DDP, QDP or ODP BGA packages. This significantly simplifies supply chain planning and results in higher flexibility and better lead times. At the same time, it allows us to offer better longevity for our products through extended wafer supply agreements with our manufacturers.