Thursday, September 13th 2018
In a move that may have been premature, if the information only being available on Antec India's Facebook page is anything to go by, we got word of their new TORQUE case coming to the market soon. It adopts the ever-growing trend of open cases with flat metal sections combined with tempered glass pieces, and the released image also brings up comparisons to the
Cougar Conquer we reviewed
last year. Indeed, the comments on the social media post do not help Antec's case either with the majority pointing out the similarities rather than discussing more about the case.
As it is, the Antec TORQUE is a full size case with e-ATX motherboard support alongside seven PCI slot covers in an aluminum body with at least one tempered glass side panel held in place with multiple screws. A black and red color scheme provides some color aside from the usual monotone, although now it looks similar to
a case mod
by a Thai modder for a Thermaltake competition in 2016. Other features include a USB 3.1 (likely Gen 2) Type-C connector on the front, and Antec claims "amazing airflow" which is challenging in open cases such as this. Let me know what you think about the Antec TORQUE in the comments section below, as well as whether such designs are to your liking or not.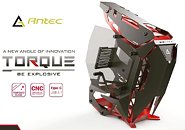 Source:
Antec India Facebook