Monday, September 2nd 2019
World famous overclocker Der8auer published his survey of boost clocks found on 3rd generation Ryzen CPUs. Collecting data from almost 3,000 entries from people around the world, he has found out that a majority of the 3000 series Ryzen CPUs are not hitting their advertised boost speeds. Perhaps one of the worst results from the entire survey are for the 12-core Ryzen 9 3900X, for which only 5.6% of entries reported have managed to reach the boost speeds AMD advertises. However, the situation is better for lower-end SKUs, with about half of the Ryzen 5 3600 results showing that their CPU is boosting correctly and within advertised numbers.
Der8auer carefully selected the results that went into the survey, where he discarded any numbers that used either specialized cooling like water chillers, Precision Boost Overdrive - PBO or the results which were submitted by "fanboys" who wanted to game the result. Testing was purely scientific using Cinebench R15 and clock speeds were recorded using HWinfo (which got recommendation from AMD), so he could get as precise data as possible.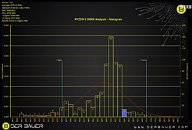 Der8auer comments that he still recommends Ryzen 3000 series CPUs, as they present a good value and have good performance to back. He just finds it very odd that AMD didn't specify what you need to reach the advertised boost speeds.
If you would like to see the more in depth testing, here is the English version of the video: