Sunday, January 16th 2022

Large on-die caches are expected to be a major contributor to IPC and gaming performance. The upcoming AMD Ryzen 7 5800X3D processor triples its on-die last-level cache using the 3D Vertical Cache technology, to level up to Intel's "Alder Lake-S" processors in gaming, while using the existing "Zen 3" IP. Intel realizes this, and is planning a massive increase in on-die cache sizes, although spread across the cache hierarchy. The next-generation "Raptor Lake-S" desktop processor the company plans to launch in the second half of 2022 is rumored to feature 68 MB of "total cache" (that's AMD lingo for L2 + L3 caches), according to a highly plausible theory by PC enthusiast OneRaichu on Twitter, and illustrated by Olrak29_.
The "Raptor Lake-S" silicon is expected to feature eight "Raptor Cove" P-cores, and four "Gracemont" E-core clusters (each cluster amounts to four cores). The "Raptor Cove" core is expected to feature 2 MB of dedicated L2 cache, an increase over the 1.25 MB L2 cache per "Golden Cove" P-core of "Alder Lake-S." In a "Gracemont" E-core cluster, four CPU cores share an L2 cache. Intel is looking to double this E-core cluster L2 cache size from 2 MB per cluster on "Alder Lake," to 4 MB per cluster. The shared L3 cache increases from 30 MB on "Alder Lake-S" (C0 silicon), to 36 MB on "Raptor Lake-S." The L2 + L3 caches hence add up to 68 MB. All eyes are now on "Zen 4," and whether AMD gives the L2 caches an increase from the 512 KB per-core size that it's consistently maintained since the first "Zen."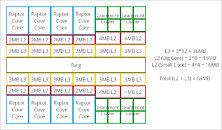 Sources: OneRaichu (Twitter), Olrack (Twitter), HotHardware