Tuesday, June 21st 2022

In March of 2022, AMD released the latest AMD Ryzen Threadripper PRO 5000 WX-Series processors with our OEM partner Lenovo and the ThinkStation P620. This legendary capability is now expanding into the Dell Precision 7865 workstation. As AMD continues to expand its workstation business, we're happy to share that Ryzen Threadripper PRO 5000 WX-Series processors will be available at leading system integrators worldwide beginning in July, 2022. We also expect to make these processors available to our DIY community later this year.
Threadripper processors have always been a platform that is defined by leadership performance and capability which enables unlimited creative potential. Examining what our most demanding enthusiasts and content creators value most in the platform has led us to unify the Threadripper and Threadripper PRO product lines. Going forward, the Threadripper platform will now use a single "common infrastructure." This means there will be one set of Threadripper PRO processors to choose from, with one CPU socket and chipset, and every processor will be based on AMD Ryzen Threadripper PRO silicon.
This also means that all Threadripper processors will natively offer: 128 lanes of PCIe Gen 4, 8-channel UDIMM and RDIMM support for more flexible memory configurations, massive L3 cache, plus the benefit of security and manageability features common across the Ryzen PRO processor family. Impressive hardware specs like these are a large part of why Threadripper processors are trusted for enthusiasts and professional creators.
Overclocking Support
In addition to the PRO feature set, users will still have access to the same exciting features that made Threadripper processors a true enthusiast platform. Select WRX80 motherboards from our ODM partners will support both memory and CPU overclocking for users looking to push the limits of their workstation even further.
Upgrading From "Zen 2" To "Zen 3" Core Architecture
AMD Ryzen Threadripper PRO 5000WX processors are designed for the WRX80 chipset and sWRX8 CPU socket. Customers with a WRX80 chipset-based motherboard will be able to perform a drop-in upgrade to Threadripper PRO 5000 WX-Series processors after a BIOS update, should they choose to do so.
In this new "one socket" world for "Zen 3" architecture, new motherboards for Threadripper processors will be WRX80 chipset-based. When there is one set of Threadripper processor models, you only need to choose the core count that you want and a motherboard that has the features you need.
Models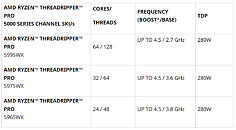 Source: AMD