Sunday, June 29th 2008
With the level of competition in the computer hardware industry reaching new highs by the day, manufacturers are looking for innovative ways to market their products. With "Stability, Durability" being the new mantra and players such as Gigabyte and ASUS already using these as USP for some of their flagship products, Cooler Master jumps in with their Ultimate Circuit Protection (UCP) line of power supply units.
They have launched three models, a 700W (RS-700-AAAA-A3), a 900W (RS-900-AAAA-A3) and an 1100W (RS-B00-AAAA-A3). These PSU's are unique for having conductive-polymer (solid-state) capacitors in the most temperature sensitive parts of the PSU, supplemented with Japanese electrolytic capacitors. A surge-protective soft start circuit is also included.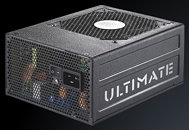 The UCP Series utilize a synchronized power factor correction (PFC) control circuit with a single 12V switching design. The company claims up to 88 per cent efficiency. The 900W and 1100W models feature two 4+4 pin auxiliary CPU connectors making them suitable for dual-socket workstation boards, depending on the model, up to six 6-pin PCI Express graphics card connectors and three 8-pin connectors can all be used simultaneously if required.
For more information, please visit the UCP micro-site
here
.
The full press-release could be read
here
.
Cooler Master