ECS nForce4-A939 Voltmods
---
Introduction
The ECS/Elitegroup NFORCE4-A939 is the cheapest nForce4 based motherboard available here in Europe. Although in contrast to the price, the overclocking options and the overall build quality of this board are both really good and far away from appearing cheap. This makes it the perfect victim for some voltmodding action.
Required parts
2x 50K trimmer potentiometers for the VCore-Mod
3x ~47K SMD 0805 resistors for the VDroop-Mod
2x 5-position dip-switches for the VID-Mod
1x 200K and 1x 10K trimmer potentiometers for the VDimm-Mod
1x 500K and 1x 50K trimmer potentiometers for the VLDT-Mod
1x 5K and 1x 500R trimmer potentiometers for the VChipset-Mod
Adjust all the potentiometers to the maximum resistance
. Those are the values to start with - they are very important!
For all mods the rule is: The lower the resistance on those potentiometers, the higher the voltage. So make sure you checked if maximum resistance is set before powering up for the first time after doing the mods.
Overview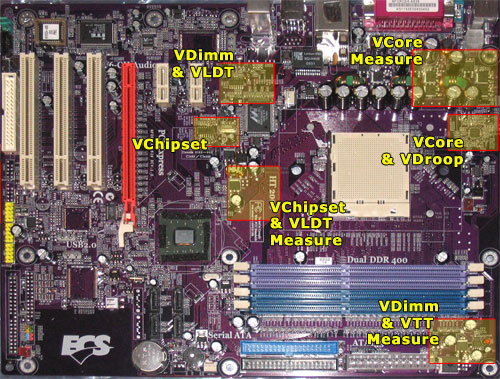 This should give you a rough overview of where to find the specific chips, needed for the modifications.
---