Joined

Feb 12, 2019
Messages

18 (0.03/day)
| | |
| --- | --- |
| System Name | ASUS SCAR II |
| Processor | i7-8750H @2.2GHz |
| Motherboard | GL504GS |
| Memory | 32 GB DDR4 |
| Video Card(s) | Nvidia Geforce GTX 1070, 8GB GDDR5 |
| Storage | 240 GB SSD + 1TB HDD |
| Display(s) | 144 Hz Full-HD IPS, 1920x1080 |
| Audio Device(s) | Audio-Technica M50x Headphones |
| Mouse | Logitech G Pro (HERO) RGB |
| Software | Windows 10 64-Bit |
Hello, I'm having to seek help from this wonderful community here on TechPowerUp, as the official tech giant's support services have a rather nonchalant and ineffectual approach to solving these sorts of problems. The reason is mostly due to the end users preferences for using software that in their view; "isn't their problem to fix". It's a little frustrating, honestly.

Anyway, long story short I have bought a brand new Asus ROG Laptop.
- It has Windows 10, 64-bit, 1809 version.
- It came with Realtek pre-installed (which I didn't like because the manager was missing...well actually there was a strange "console" app instead that didn't resemble anything like the Realtek manager I've been use to in the past.)
- It also has a single Headphone/Microphone combo jack.

It's very simple from my perspective. I have a library of music I want to listen to (I currently use Foobar2000) and I'd like a specific audio setup to suit my needs.
Instead I've spent several days trying to wrap my head around - drivers, dll files, inf files, APO's, API's, registry changes, install & uninstall procedures... ugh. All in the name of custom audio. My brain has simply given up.

I have created some screenshots from my older laptop (HP) setup, showcasing what - up 'till now - I've been reasonably happy with. Minimal, but very useful and stable. (No crashes and good sound)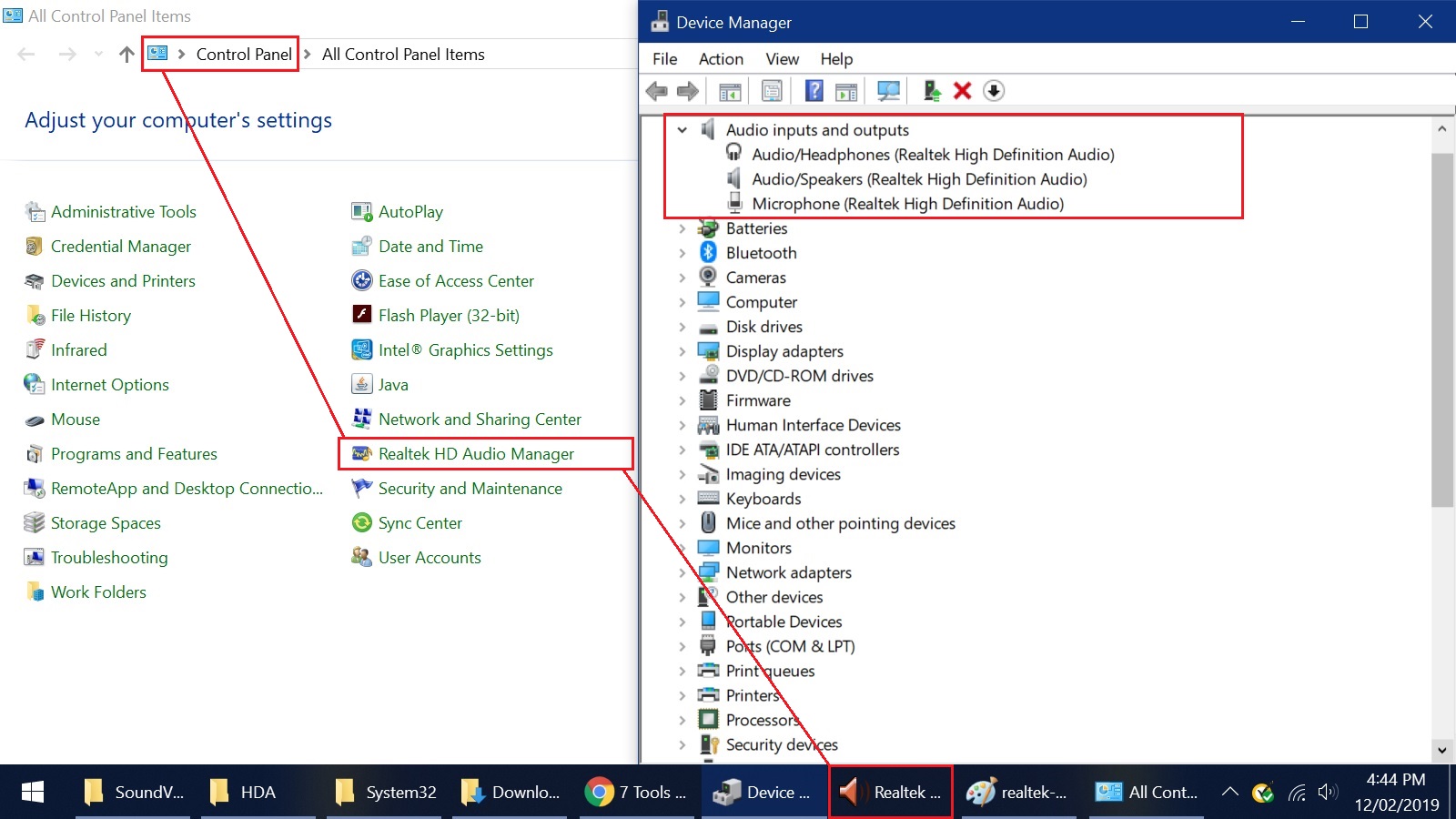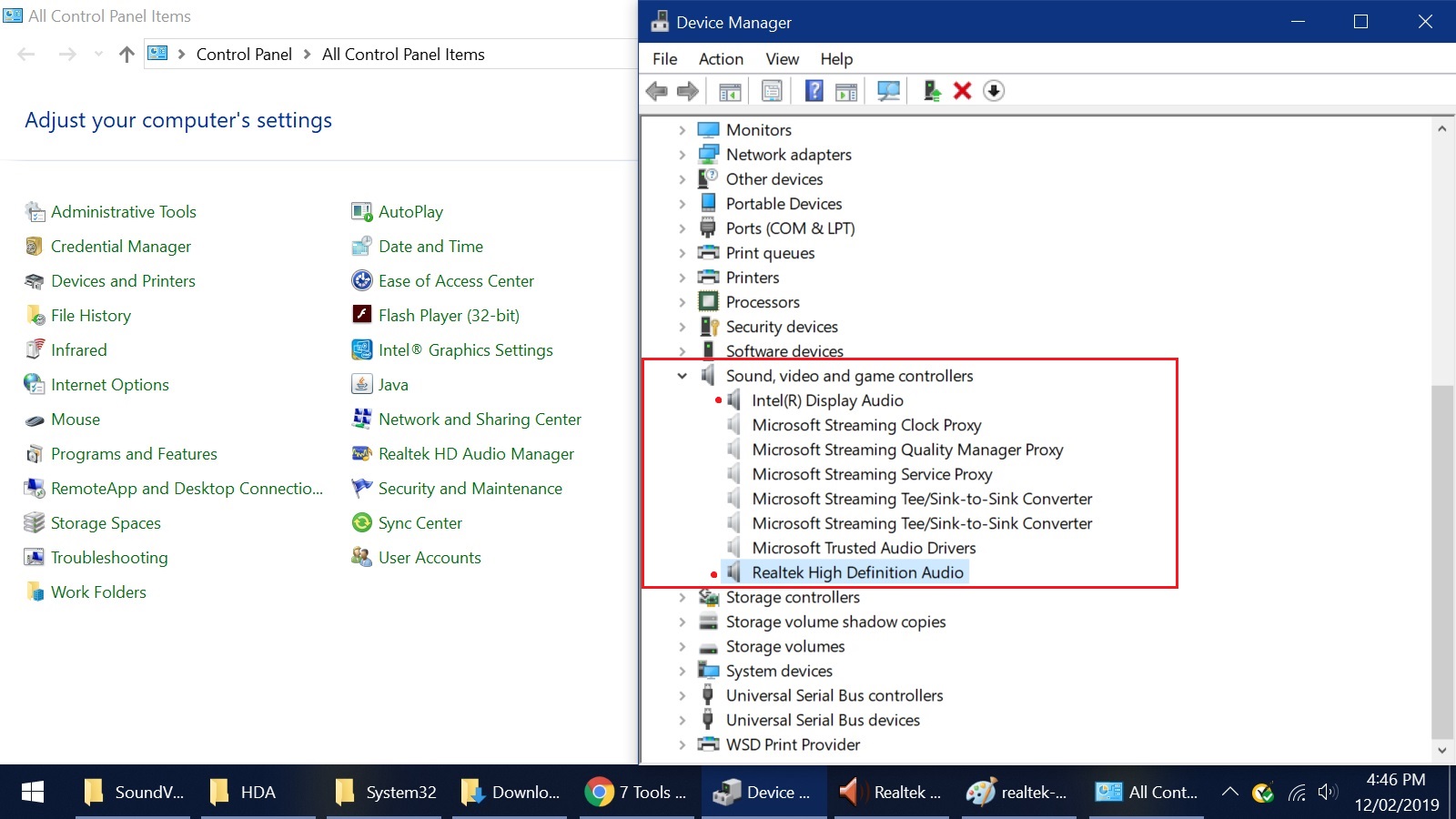 What I'll require are a few links to the correct files needed, and a simple step-by-step tutorial on how to install the setup.
- There's a lot of confusing information. Some say to use the Control Panel Device Manager to install/uninstall the drivers, others say to use Realtek's setup.exe for a complete install.
- Additionally, after a few unsuccessful attempts to find a driver version that has the Realtek HD Audio Manager (with the settings button), Windows decides to override the installation and update the driver back to the "latest" version that originally came pre-installed.
Before I turn this into a rant I'll just list off what I'm looking for, and hopefully someone will come to the rescue.


> Realtek High Definition Audio (Driver/Codec) compatible with my system.

> A version of Realtek HD Audio Manager that shows both the "i" info symbol, and the "advanced settings" symbol.
The manager needs to startup automatically when I turn on my computer (not the app - the service in the background) Red Speakers should show up in the notification area on the taskbar.
Having the manager be accessible in the Control Panel would also be helpful.

> SRS Premium Sound Enhancer program added to the manager. Auto background startup as well.

> In Audio Devices, I'd like to have both the "Speaker" device and "Headphone" device show up separately. (Currently my headphones are considered connected since I do get sound through them, but they don't show up in Audio Devices. This is why I believe I need access to the "Advanced Settings" button in Audio Manager - because I think I'm suppose to check/uncheck - "Make internal and external output devices playback two different audio streams simultaneously" or something like that.
*The general idea:
(I have no experience working with BIOS, Command Prompt, or other technical language interface things. I'm a copy/paste guy - if that makes sense. So please, if you're going to use jargon actually spell it out for me.)
Extra Questions if everything works out;
How can I stop Windows from tampering with the drivers after I reboot my laptop?
How can I protect the Realtek HD Audio Manager's preferences?
(I save multiple custom EQ profiles in Audio Manager and want to save them from being culled by any future updates - is there a file located somewhere?)

Thanks in advance - I appreciate any help on this matter.