Joined

Jan 23, 2013
Messages

147 (0.05/day)
Location

Australia
| | |
| --- | --- |
| Processor | Intel Core i7 9700KF @4.4 |
| Motherboard | Gigabyte Z390M Gaming |
| Cooling | Noctua NH-L9x65(NF-A9) + 1xNF-P12 + 2xNF-A14 + NA-FC1 |
| Memory | Corsair LPX DDR4 16GB 3200MHZ |
| Video Card(s) | RTX 3070 MSI Ventus 3x |
| Storage | Samsung 970 500GB nvme + Crucial P1 1TB nvme |
| Display(s) | Dell P2417H + Dell P1914S + Rift S |
| Case | Silverstone Precision PS15 |
| Audio Device(s) | Onboard > Denon DRA-295 > Rockford Fosgate R169X3 |
| Power Supply | EVGA G+ 650W with APC 1400VA UPS |
| Mouse | Asus Strix Carry + Corsair MM300 |
| Keyboard | Ducky One 2 TKL MX Silver |
| Software | Win 10 64Bit |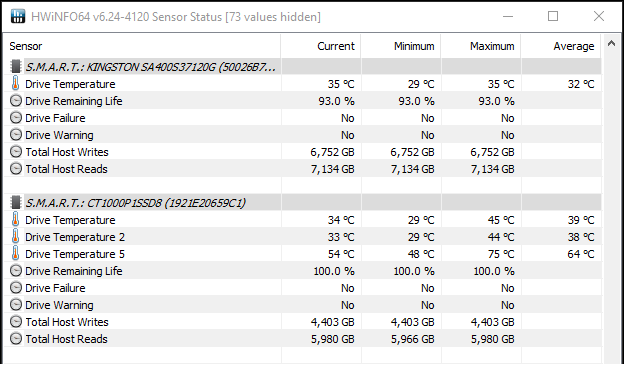 The second drive in that picture is my Crucial 1TB P1 NVME ssd, Drive Temp 5 has a high reading and i'm wondering if its safe.
I contacted Crucial and they said safe temp range is up to 70 celsius, which i think is for Drive Temp or Drive Temp 2. From research the lower temps are maybe the Controller and the higher temp is the Memory Chips, which are supposedly meant to run warm.
In the Crucial software it only shows temp readings for Drive Temp and Drive Temp 2, but no mention of the hotter running Drive Temp 5, so Crucial don't want an average Joe to see the third reading? I did aim a 120mm fan directly at the NVME and average temp came down about 10 degrees.
My temps were obtained whilst playing Doom 2016 which is installed on the NVME.