Joined

May 18, 2009
Messages

1,211 (0.30/day)
Location

MN
| | |
| --- | --- |
| System Name | Personal / HTPC |
| Processor | i5-4670k @ 4.4 / i5-4460 |
| Motherboard | ASUS z97-AR /ASRock Z87 Extreme4 |
| Cooling | Corsair H100i / stock HSF |
| Memory | 16GB DDR3 1600 / 8GB DDR3 1600 |
| Video Card(s) | Zotac GTX 980Ti AMP! Omega / Zotac GTX 980Ti AMP! Omega |
| Storage | 250 GB Crucial SSD MX200, 1TB & 500GB Western Digital / 2x 4TB WD Red |
| Display(s) | 3x 24" Asus Ve248H LED (5760x1080) / 50" LCD TV |
| Case | CoolerMaster XB Evo / CM HAF XB Evo |
| Power Supply | 850W SeaSonic X Series / 750W SeaSonic X Series |
| Mouse | Logitech G502 |
| Keyboard | Microsoft Natural Elite Keyboard |
| Software | Windows 7 Home 64 / Windows 10 Home 64 |
Razer is introducing their plan,
Razer Softminer, as they team up with Gamma
to allow your computer to mine for cryptocurrency when it is sitting idle.
Razer had just removed pretty much any way to earn their zSilver coins - you used to earn them just by gaming, as long as you had Razer Cortex running and you could also earn a small amount from logging into Cortex everyday. The earn while you game was pulled a while back and the free zSilver for logging into Coretx was axed at the end of November 2018. Razer has been saying they've bee looking for a way to allow people to earn zSilver since they pulled the play to earn feature and most likely this will be their new way to earn.
Shortly after the play to earn was removed, Razer launched their digital store and you can earn zSilver for every dollar you spend. Stack up enough zSilver and you can use it to purchase prizes that range from digital gift cards, discounts at the online Razer store, games to Razer products. Now, it seems that Razer is also including the ability to earn rewards which will most likely include zSilver - though I haven't been able to find any specifics on exactly what they mean by "rewards".
I tried to read up more on their Softminer, but even Razer doesn't have any kind of Terms for their software on their website yet. When I click on their link for the Softminer EULA, I'm directed to a 404 page: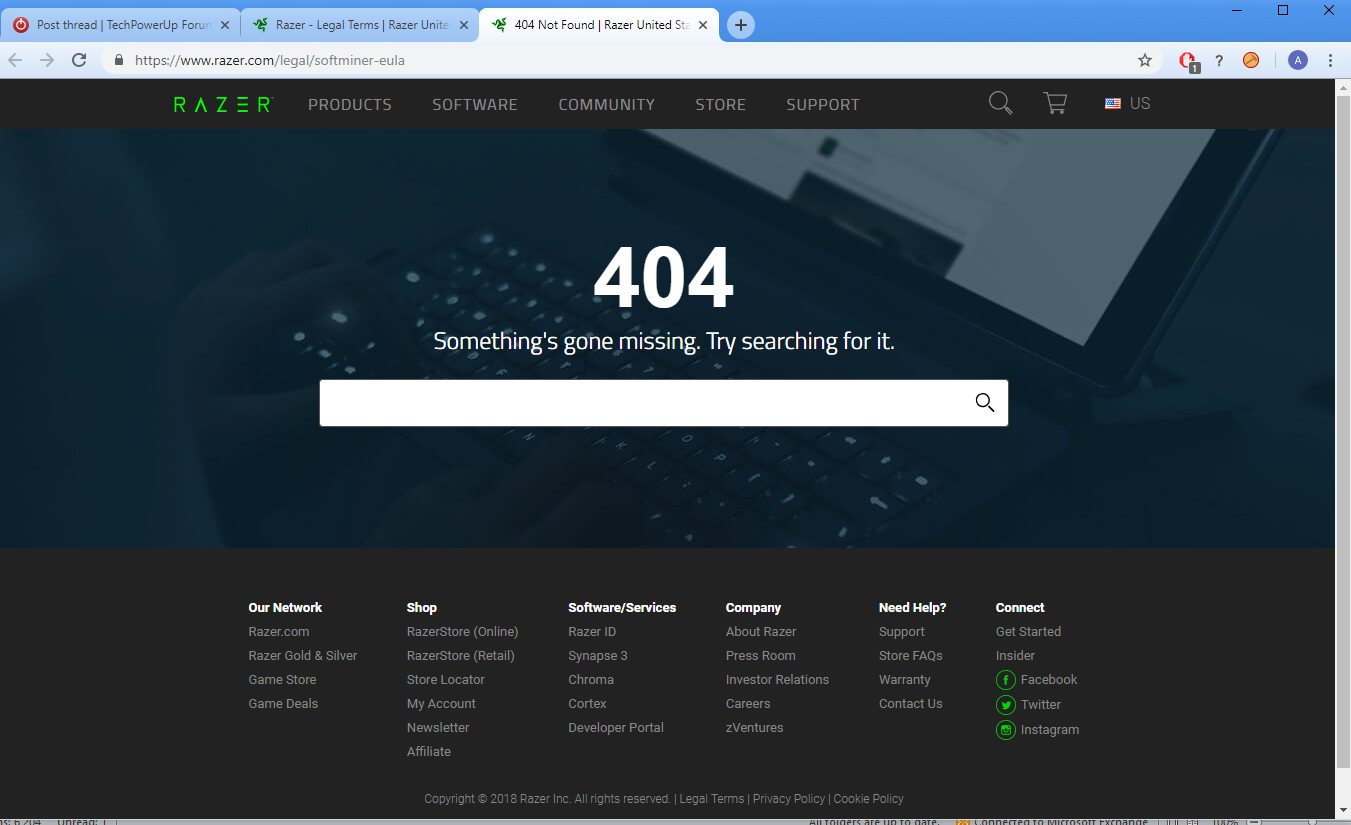 So, anyone thinking about letting Razer softminer utilize their computer when it's sitting idle?
I think I'll avoid this like the plague. I don't need my computer mindlessly mining for crypto while I slowly build up some "rewards" that will probably only be redeemable on Razer websites.
Last edited by a moderator: