Joined

Mar 18, 2008
Messages

5,386 (1.16/day)
| | |
| --- | --- |
| System Name | Virtual Reality / Bioinformatics |
| Processor | Undead CPU |
| Motherboard | Undead TUF X99 |
| Cooling | Noctua NH-D15 |
| Memory | GSkill 128GB DDR4-3000 |
| Video Card(s) | EVGA RTX 3090 FTW Ultra |
| Storage | Samsung 960 Pro 1TB + 860 EVO 2TB + WD Black 5TB |
| Display(s) | Acer K272HUL, HTC Vive |
| Case | Fractal Design R5 |
| Audio Device(s) | BOSE 2.0 |
| Power Supply | Seasonic 850watt |
| Mouse | Logitech Master MX |
| Keyboard | Corsair K70 Cherry MX Blue |
| Software | Windows 10 Professional/Linux Mint |
Welp so I lucked out and grabbed a RTX3090 on launch day. Bought it half for my work and half for gaming. (see my system spec for what I use it for )
There are tons of reviews out there for pan cake gaming. So I am just gonna throw in my $0.02 for VR gaming.
First lets have some pictures~
Size comparison between EVGA FTW3 3090 Ultra and my trusty 2080Ti XC
I guess my old girl prefers the 2080Ti
Installation was a breeze
Yes the RGB is amazing. but I am a simple guy~
Much better now without those rainbows~
This EVGA FTW3 Ultra is freaky. Default power limit is 420Watt. Power range can be 107% which is 450Watt. This is the first time I am seeing the power reading on my UPS over 670Watt for full system ( just the tower!)
And now on to the benchmarks.
First, just your regular old Time Spy and Port Royal
Next is out actual VR benchmark, thought I'd run Valve's Index HMD measurement tool first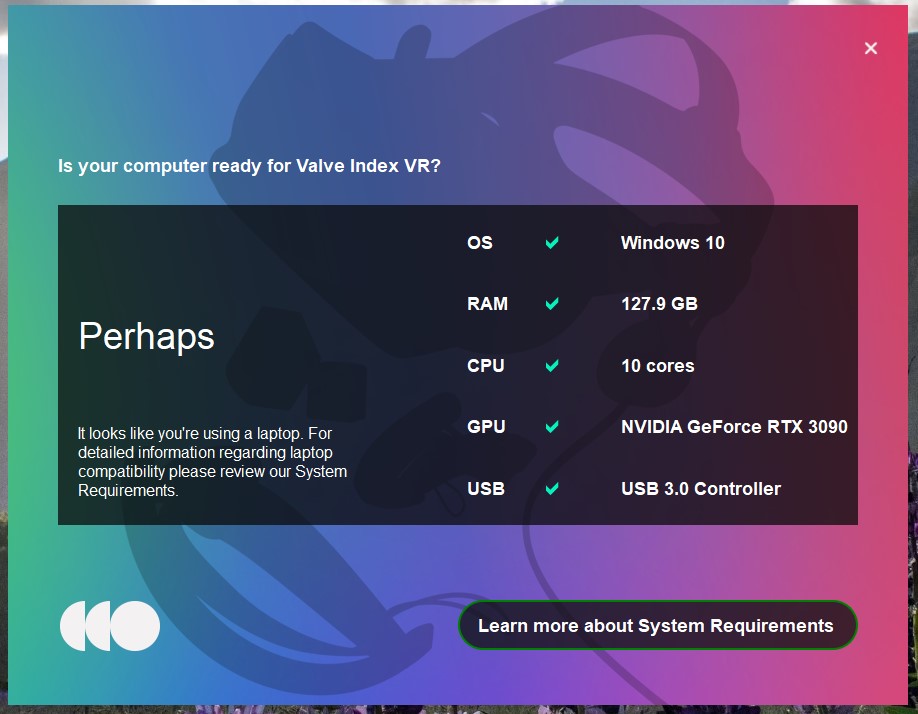 OOPS, looks like my computer can "PERHAPS" run a Valve Index. Damn so close!
But seriously, I wanna check whether RTX3090 can tackle the "VR Future" Preset with Super Position Benchmark with HP Reverb G2 resolution which is 2160 x 2160. You are more than welcome to run and compare. Looks like it is just borderline passing for a future VR HMD with extreme visual fidelity.
For the actual VR, I dont have those fancy VR calibration tools so you guys will have to rely on more words.
For FO4 VR Vanilla, I can put in 200% Super Sampling with all details cranked to the max and still runs extremely smooth. Previously in 2080Ti it would bump over 11ms frame time from time to time.
Half Life Alyx I did a good 300% Super Sampling just for the lols, AND IT RUNS JUST FINE. God damn!
Next we have VR paradise. 350% Super Sampling Hot damn. I can sit there all day lol
The temperature was amazing. With a max OC and 107% power slider, it never broke 75C and was whispering quiet. I tried the OC BIOS and the fan kicks on faster and noise does increase a bit. Still the performance and noise are both way better than my old pal 2080Ti XC.
Ampere looks like a solid GPU for VR. Especially if you are going to drive some newer gen VR HMD with SS maxed out.
(And don't worry, the old 2080Ti aint going anywere. I will post another major update with the 2080Ti as the main event.)