Hi,
I've been using ThrottleStop for about a year now on my laptop and it has greatly helped the performance I get. I get no more thermal throttling and even better performance/fps. However, these past 2 weeks I've noticed that the thermal throttling is back and has started to occur in games I've never had a problem with since using ThrottleStop, mainly Rocket League and League of Legends. I've always used the same setting on for ThrottleStop, which I copied from a youtube video on how to use it. Since I now have thermal throttling again, I figured it's time to re-adjust my settings to the ones that best support my laptop. I stumbled upon this website and forum and figured I'd ask for help from people who know more than me about underclocking.
So, if you have any tips for what settings are most important when it comes to getting different outcomes and are educated on this matter or have the same machine as me and have solved your problem, I would really appreciate any help you could offer.
These are the settings I've had on my ThrottleStop: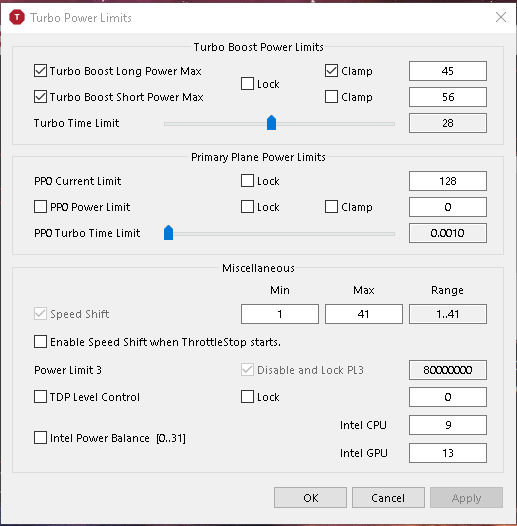 The only thing I've changed in these settings is the Speed Shift - EPP, this is because I saw another post on this forum where the owner had replied and told the person to change it to 84. With this setting changed, I also ran a CINEBENCH test and got the score you can see in the last picture, although I don't know if it's any good or bad. (Limit Reasons was cleared prior to the benchmark test and what it shows is what occurred during the test, I don't know any of the meanings in there)
Thank you in advance for sharing anything you think might help, meanwhile I'll start trying to change some settings and see if I get different results on CINEBENCH.
Thank you for your time,
Mihail