Joined

Aug 3, 2011
Messages

1,387 (0.34/day)
Location

Walkabout Creek
| | |
| --- | --- |
| System Name | Tacoma Power |
| Processor | 12900K |
| Motherboard | Strix-E |
| Cooling | Noctua |
| Memory | 2x16 DDR5 Hynix |
| Video Card(s) | 6800 XT Merc |
| Storage | M.2 980 Pro 1TB |
| Display(s) | LG 65" OLED 4K 120Hz |
| Case | Silverstone HTPC |
| Audio Device(s) | Sound Blaster Z |
| Power Supply | Corsair RM650i |
| Mouse | Wireless on the Couch |
| Keyboard | Wireless on the Couch |
| Software | Win 10 x64 atm |
| Benchmark Scores | Nice and Comfy |
Hi guys,
I have been able to port my Win 7 x64 (from Z370) on an Asus TUF Z490. I have been having some problems installing the Lan and USB's. I have done a temporary fix buy installing a Lan card (will hardly ever use anyways) and a USB 3.0 card to get the Mouse and Keyboard going.
Now Id ideally like to get these two functions working without installing third party hardware/software.
Here is what I've done so far with the Lan. I've got it close to working but no quite...
I've followed this thread here:
Windows 7 installed on z490E need working LAN driver Solved - Windows 7 Help Forums (sevenforums.com)
So I've modded the inf file but its only partially working : (
This is what happens when I manually install via device manager.
And when I got to install the Chipset Driver/Lan etc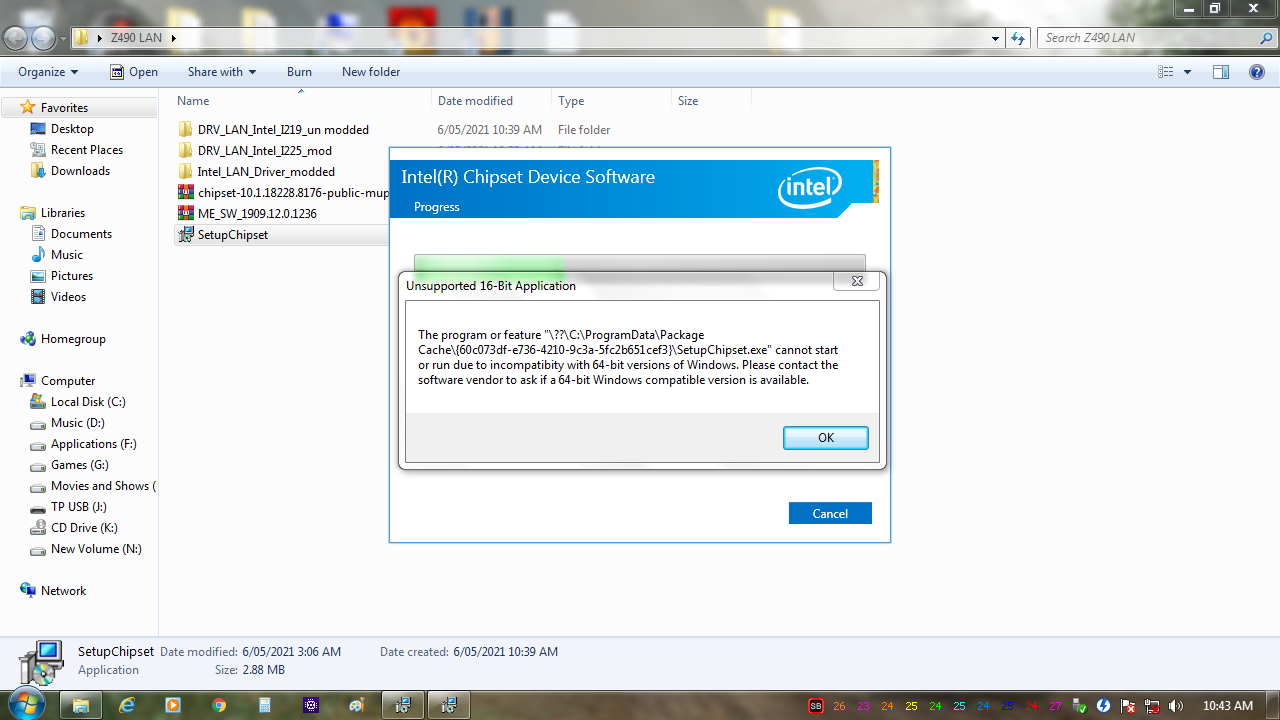 Ok now for anybody wondering why I'm running Windows 7 its because all my older games run better and don't have issue's especially when they are unpatched. I also got plenty of Win 10 installs around the house.
So can anybody here help me get the USB's working and Lan? Is it a simple case of modifying the INF files? I'm not a big fan of running 3rd party Hardware/Software and like less clutter inside the HTPC case.
I have seen some threads where they have been able to get all things working on Win 7/Z490 and I've tried my best but will need some help from here unfortunately.
Thanks in advance : )