Hi all,
I was a happy owner of a dell XPS 9570, i7-8750H/GTX 1050Ti until I did a fresh install of W10 21H2 last week.
Since then, even after double checking drivers, softwares, services, I have massive power throttling on it. I never noticed it before doing this clean install. I have those issues even on a fresh clean W10.
W10 is coming from official sources, so not bloatware or virus there.
By watching a simple youtube video in 1080p/ or a little task on it which demands CPU, it reach straight PL1 and clock goes back to 0.8GHz and computer is unusable.
I decided to did some research and I understood that I had to install Dell power manager service, what I did and put Thermal management on optimized/ultra.
Dell Support Assist and Intel driver support Assistant gives me drivers up to date.
Then I make myself sure to have performance power plan in W10 settings with maximum processor state a 100%.
I decided then to install TS, software that I never used before and I followed different reference:
The general one for TS
Advanced laptop tweaks (undervolting, overclocking and underclocking) (ultrabookreview.com)
But also the more precisely
How to Fix Throttling on the Dell XPS 15 7590/9570/9560 (ultrabookreview.com)
.
I didn't do any hardware mod yet neither repasted my CPU/GPU since 4 years now.
I had to restore to factory settings my BIOS to be able to undervolt my CPU (because of plundervolt exploit which was patched in 1.16.2 :
XPS 15 9570 Bios 1.16.2 out, mostly breaks undervolt, be aware! : Dell (reddit.com)
)
Even by having a -110mv on CPU Core/Cache and -75 on Intel GPU, P95 gets me to PL within 30 seconds.
I'm planning on applying those hardware mods here, especially by putting thermal pad on VRM, and the electric tape trick :
How to Get Your XPS 15 Running Cold : Dell (reddit.com)
.
Here an image of this trick
XPS 15 9550 temperature observations (undervolt + repaste) | Page 110 | NotebookReview (archive.org)
.
My C0% at boot is around 7% while C7% around 90%, I heard that some people are having C0% at 0.1 and C7% at 99% at boot so not my case here...Don't know what to think about it.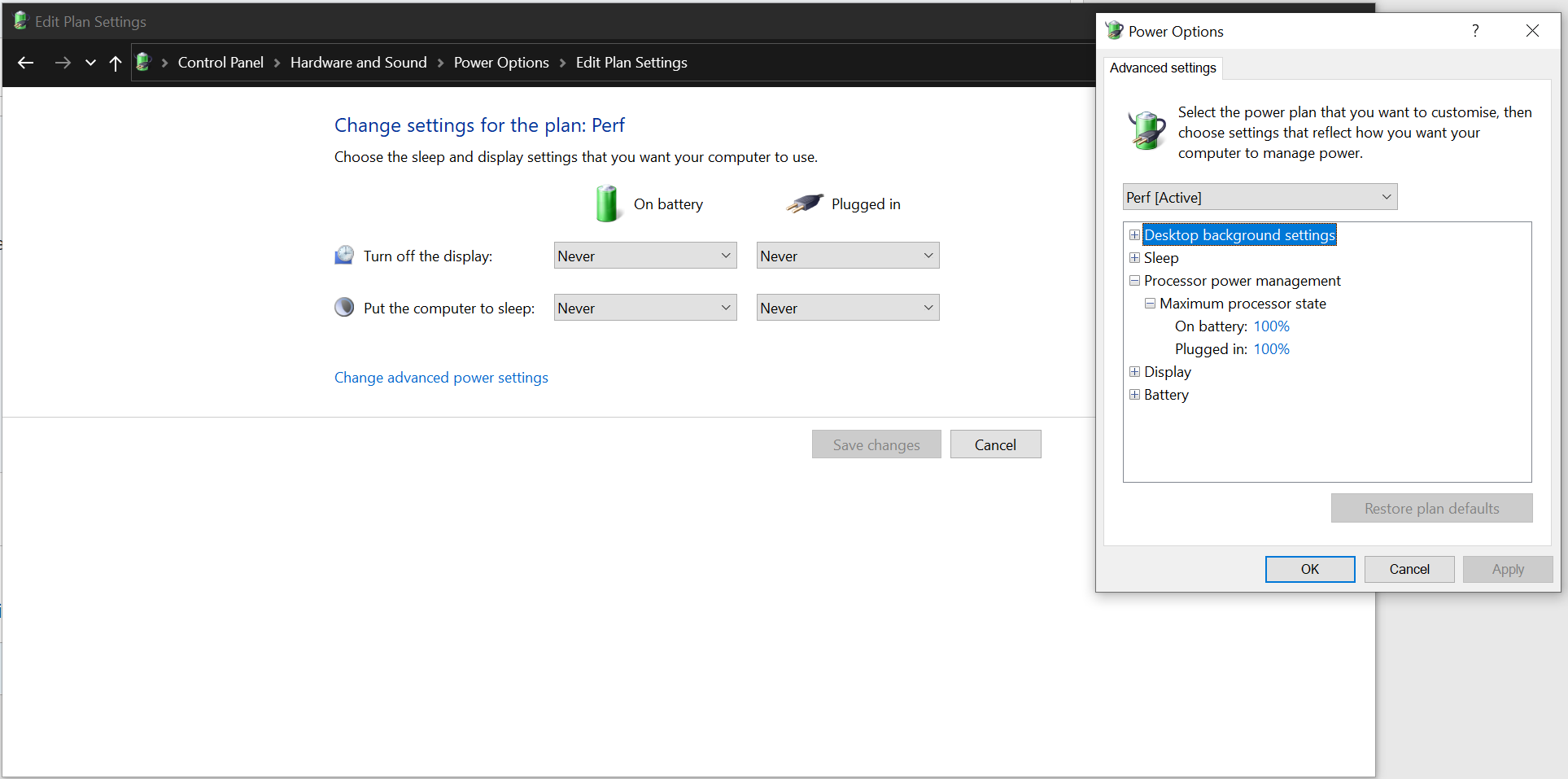 Here my TS performance profile where it hit PL and TL after 30 seconds of P95, with CPU hitting 98°C at peak (I only touched CPU core/Cache & intel GPU values ):
Here the TS Bench results under perf mode:
After around 5 minutes of P95 my 2nd profile hit PL1 too with CPU hitting 75 °C at peak (Same as perf profile but Disable Turbo checked):
Here the results of TS bench under downclocked mode (which I assume are okay, but I have Turbo mode set to off) :
Can you please give me some advices I don't know what else to do...?
I would be pleased to answer any questions if needed.
Thanks.
@unclewebb
Last edited: