News Posts matching #Caffe
Return to Keyword Browsing

Intel Tuesday unveiled a new portfolio of data-centric solutions consisting of 2nd-Generation Intel Xeon Scalable processors, Intel Optane DC memory and storage solutions, and software and platform technologies optimized to help its customers extract more value from their data. Intel's latest data center solutions target a wide range of use cases within cloud computing, network infrastructure and intelligent edge applications, and support high-growth workloads, including AI and 5G.
Building on more than 20 years of world-class data center platforms and deep customer collaboration, Intel's data center solutions target server, network, storage, internet of things (IoT) applications and workstations. The portfolio of products advances Intel's data-centric strategy to pursue a massive $300 billion data-driven market opportunity.
Gyrfalcon Technology Inc, an emerging AI chip maker in Silicon Valley, CA, launches its Laceli AI Compute Stick after Intel Movidius announced its deep learning Neural Compute Stick in July of last year. With the company's first ultra-low power, high performance AI processor Lightspeeur 2801S, the Laceli AI Compute Stick runs a 2.8 TOPS performance within 0.3 Watt of power, which is 90 times more efficient than the Movidius USB Stick (0.1 TOPS within 1 Watt of power.)
Lightspeeur is based on Gyrfalcon Technology Inc's APiM architecture, which uses memory as the AI processing unit. This eliminates the huge data movement that results in high power consumption. The architecture features true, on-chip parallelism, in situ computing, and eliminates memory bottlenecks. It has roughly 28,000 parallel computing cores and does not require external memory for AI inference.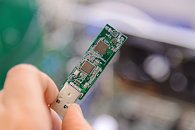 Return to Keyword Browsing