News Posts matching #H.266
Return to Keyword Browsing
With ever increasing computational needs from TV SoCs, as we're moving towards higher resolutions and refresh rates, MediaTek is getting ready for the next generation of 8K TVs with its new Pentonic 2000 SoC. This is the world's first TV SoC to support the new H.266 video codec standard, which is an evolution of the H.265 intended for 8K content.
The Pentonic 2000 is fabbed using TSMC's N7 node and it's the first commercial TV SoC to be made on this manufacturing process according to MediaTek. The SoC supports 8K resolution content at up to 120 Hz with MEMC (Motion Estimation, Motion Compensation) and has an integrated AI engine to help improve scaling from lower resolutions. MediaTek also claims that the Pentonic 2000 features the "industry's most powerful CPU and GPU" in a smart TV SoC, without giving away any actual details, although it the SoC does support UFS 3.1 storage, which suggests that we're looking at a recent Arm Cortex-A7x based SoC at the very least.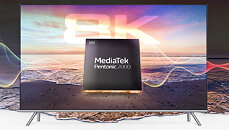 Fraunhofer HHI today revealed their latest video compression standard H.266/Versatile Video Codec (VVC), which is set to eventually replace the current H.265/HEVC standard. The new standard was developed by Fraunhofer HHI in partnership with industry partners including Apple, Ericsson, Intel, Huawei, Microsoft, Qualcomm, and Sony. The standard follows previous iterations promising a 50% reduction in bit-rate while maintaining the same quality.
Fraunhofer HHI claims that the new standard will play a major role in video transmission and storage however it is unknown if companies and consumers will adopt the standard. HEVC was released back in 2013 but is only now seven years later starting to see significant support, Fraunhofer plans to release the first software encoder/decoder this spring while hardware chips will likely take much longer. The major streaming giants such as Google and Netflix will likely determine when or if the standard becomes mainstream.
Return to Keyword Browsing