News Posts matching "HDMI 2.1"
Return to Keyword Browsing
Just a while ago the first 4K 144 Hz monitors became available with the ASUS PG27UQ and Acer X27. These $2,000 monitors no longer force gamers to pick between high-refresh rate or high resolution, since they support 3840x2160 and refresh rates up to 144 Hz. However, reviews of early-adopters report a noticeable degradation in image quality when these monitors are running at 144 Hz. Surprisingly refresh rates of 120 Hz and below look perfectly sharp.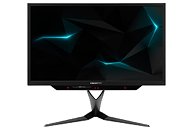 The underlying reason for that is the DisplayPort 1.4 interface, which provides 26 Gbits/s of bandwidth, just enough for full 4K at 120 Hz. So monitor vendors had to get creative to achieve the magic 144 Hz that they were shooting for. The solution comes from old television technology in form of chroma subsampling (YCbCr), which, in the case of these monitors, transmits the grayscale portion of the image at full resolution (3840x2160) and the color information at half the horizontal resolution (1920x2160).
HDMI Forum, Inc. today announced the release of Version 2.1 of the HDMI Specification which is now available to all HDMI 2.0 adopters. This latest HDMI Specification supports a range of higher video resolutions and refresh rates including 8K60 and 4K120, and resolutions up to 10K. Dynamic HDR formats are also supported, and bandwidth capability is increased up to 48Gbps. Supporting the 48Gbps bandwidth is the new Ultra High Speed HDMI Cable. The cable ensures high- bandwidth dependent features are delivered including uncompressed 8K video with HDR. It features exceptionally low EMI (electro-magnetic interference) which reduces interference with nearby wireless devices. The cable is backwards compatible and can be used with the existing installed base of HDMI devices.
Version 2.1 of the HDMI Specification is backward compatible with earlier versions of the specification, and was developed by the HDMI Forum's Technical Working Group whose members represent some of the world's leading manufacturers of consumer electronics, personal computers, mobile devices, cables and components.
In what could spell very interesting things for the uptake of the Freesync 2 open-standard, Digital Foundry has confirmed that Microsoft's upcoming "Project Scorpio" console will leverage AMD's FreeSync 2 standard so as to improve fluidity of frames. The objective is, as usual, to eliminate tearing and reduce stutter, allowing the GPU to trigger the display refresh rate at exactly the same frequency as it can churn out frames. The FreeSync 2 revision of the open standard is HDR-compatible, which means it supports what is being touted as The Next Big Thing™ in image quality. Like always, the available FreeSync-supported band will still depend on the panel's actual specifications. Additionally, the Scorpio is going to offer support for the upcoming VRR (Variable Refresh Rate) implemented within the HDMI 2.1 specifications.

Though TV panels don't support either of those standards currently, AMD has teased that FreeSync support on TVs would be possible - and upcoming. If true, and if this FreeSync support were to take off, this might spell an increased uptake on AMD's open standard implementation of VRR over NVIDIA's G-SYNC. The adoption of these VRR technologies would also allow developers to perhaps change their performance targets (say, from 60 FPS to 45 FPS), while also increasing fluidity of games that struggle to maintain their target frame rate. The Scorpio could be the first mainstream piece of tech to offer widespread support for VRR standards, thus increasing the user base and industry adoption rate of this technologies, which can only be good. To say that this adoption spells the death of NVIDIA's proprietary G-SYNC is nothing more than wild, boastful speculation; saying it could drive FreeSync and HDMI's VRR implementation towards mainstream usage is not. And that could mean a slow push of G-SYNC towards a niche PC-monitor solution with reduced uptake from monitor manufacturers.
Return to Keyword Browsing