News Posts matching #Inventories
Return to Keyword Browsing

NVIDIA's add-in card partners are ordering fresh stocks of GeForce RTX 2070 graphics chips even as the performance-segment of the GPU market has changed with AMD's introduction of its Radeon RX 5700 series "Navi," according to a Gamers Nexus report citing sources among NVIDIA partners. NVIDIA partners are expecting a slump in AMD's RX 5700 series graphics card inventories, particularly that of the RX 5700 XT, to create a price-point at which to sell the RTX 2070. NVIDIA partners expect RX 5700 XT inventories to run slim as supply of the 7 nm "Navi 10" chips from foundry-partner TSMC may not satiate the SKU's reportedly high demand.
NVIDIA's current product stack has the original RTX 2060 at $349, the RTX 2060 Super at $399, and the RTX 2070 Super at $499. The RTX 2070, which is outperformed by the $399 Radeon RX 5700 XT, was practically phased out from NVIDIA's product-stack as it was succeeded by the RTX 2070 Super at its $499 price-point. With the RTX 2070 making a comeback, it would be interesting to see what its price-point will be. There is a gap between the $399 RTX 2060 Super, and the $499 RTX 2070 Super, although the performance gap between the RTX 2060 Super and the RTX 2070 is a paltry 4 percent, which is easily closed by moderately overclocking the RTX 2060 Super. As of this writing, both pricing and availability of the RX 5700 XT appear normal.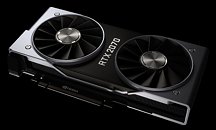 According to DigiTimes, NVIDIA and AMD partners are doing their best to digest unsold graphics card inventory via promotions and discounts. The idea here is that they can achieve increased amounts of revenue and move a lot of the graphics card stock they accumulated following (and counting on) the crypto craze. This move will certainly affect their bottom line when it comes to profits, but that's just what these companies have to do. Hardware sold at a tiny profit is always better than that which stays in the warehouse simply deprecating, and these companies know it best.
DigiTimes cites the example of AMD-partner TUL corporation which manages the PowerColor brand, saying that they achieved, via promotions, an increase of 115% in revenues on January (over their December values). This increase in revenue still compares negatively YoY, where it's still 85.7% lower compared to January 2018. And despite the increase revenue, profits declined to the red: the company had net losses of NT$10.31 million in January 2019 and EPS of negative NT$0.31. Some hard times could be coming for AIB partners, who will have to bite the bullet on pricing to move their stockpiles of older generation graphics cards.
Even as we achieve consumerism in scales hitherto unseen, tech companies always want to sell more - there's "always" increased production, there must always be increased, projected demand from customers. However, when demand isn't there, and growth slows down or even stagnates, production takes its time to adjust - and already manufactured products have few opportunities other than going on towards a swelling inventory.
This is what is happening with a myriad of tech companies, such as Apple, Samsung, Xiaomi, Intel, Hon Hai (Foxconn), among others. We could even take a page from our own PC industry and look at NVIDIA's
Pascal inventory that is in need of clearing up
- and which has resulted in bottoming prices of previous-gen cards as we look towards the new RTX 20-series. Which, coincidentally, have been launched with increased pricing over the previous generation. Perhaps another way of moving old inventory?
Return to Keyword Browsing