News Posts matching #System Shock 3
Return to Keyword Browsing
This is likely not the piece of news any of us wanted to hear on the development of System Shock 3. As a sequel to one of the most well-considered gaming franchises of all time, however, development of such a game is bound to be rife with difficulties - especially for an indie studio such as OtherSide Entertainment, a sentiment the developers themselves took to Twitter). AS reports surfaced earlier this year that the entire team working on the project at OtherSide had been let go, health of the development (and confidence in its development) clearly wasn't soaring. Now, OtherSide has confirmed that development of System Shock 3 has ceased - and has passed the mantle to Chinese giant Tencent.
Tencent has thus acquired the rights for development of a sequel to the System Shock franchise - Nightdive Studios, holders of the IP that licensed it to OtherSide Entertainment, have already announced the change in carrier for the sequel hopes. OtherSide places their faith in Tencent's "deep capabilities and expertise as a leading video game company will bring the franchise to new heights". Whether or not that means starting from scratch is up in the air right now, but one thing is certain: the game will take even longer than expected to release. A blue screen of death for Shodan, pending a reboot.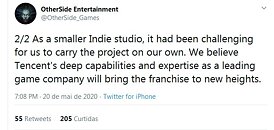 System Shock is one of the most revered, iconic franchises for PC gaming. One of the first games to thoroughly explore the trope of the rampant AI in a fully realized world (be it lore or mechanics-wise), it has left a taste of grandeur on those that actually got to play it before some of us gamers became too blindsided by pretty, current graphics.

Developer OtherSide Entertainment, who have the rights to develop further worlds in the franchise, have just released a pre-alpha gameplay teaser that at least serves to give us a taste of their art and mood direction. I got some flashbacks to the first Dead Space game whilst watching this, but that might just be me. This really does look like one of the darkest renditions of AI-powered reckonings we've seen to date. Here's hoping for a good, engaging storyline. Check out the teaser after the break.
Return to Keyword Browsing