News Posts matching #marketing
Return to Keyword Browsing
HyperX, the gaming division of Kingston Technology Company, Inc., today announced the HyperX Spectre Gaming Eyewear collection now includes three new families of glasses - Stealth, React and Scout. The HyperX Spectre Eyewear collection features exclusive HyperX gaming-grade, impact-resistant lenses that offer superior blue light and UV protection for gamers and individuals while viewing digital devices. Designed to meet a variety of style and screen viewing needs, the new gaming eyewear families offer a range of lens technology options, designs, colors, and sizes. The Spectre Scout family offers several youth options, designed for kids who game, as well as learn and study at home.
With 80 percent of people using digital devices more than two hours a day and nearly 67 percent using two or more devices simultaneously, research has shown that exposure to high energy blue light rays can cause eye fatigue, blurry vision and lack of sleep.1 The blue-light-blocking Spectre Eyewear is designed to help protect eyes from the short- and long-term effects of digital eyestrain and keep gamers' eyes comfortable during longer gaming sessions, or while working and learning on a computer, or scrolling on a phone.

In signs of NVIDIA's upcoming GeForce Ampere graphics cards getting a brisk market launch across several SKUs, a Tweaktown report predicts that custom-design graphics cards based on the chips will launch alongside Founders Edition (de facto reference-design) cards. NVIDIA's add-in card partners are believed to be ready with their next-generation original designs that will debut with the new chips, with renders of the ASUS ROG Strix 3000-series cards
having leaked
in early June. Tweaktown predicts series reveal by September 9, followed by SKU announcements on September 17. AIC partners tell them that custom-design products can be expected within the month. The first major teaser could come out by August 31.
NVIDIA on Monday
tweeted
its very first web teaser of the new series, under the hashtag #UltimateCountdown. We predict DirectX 12 Ultimate to be central to NVIDIA's marketing, especially a play on the word "ultimate," (eg: the "ultimate ray-tracing performance"). It wouldn't surprise us if "Ultimate" is somehow integrated into the product branding itself (à la "RTX").

NVIDIA today shared the first real teaser in what seems to be the start of the Ampere marketing push. A post via Twitter shared an image showing an explosion of cosmic proportions, with a "#theultimatecountdown" tag alongside the "21 days. 21 years" tagline. This is a likely throwback to August 31st 1999, when NVIDIA launched its first GeForce branded graphics card - the GeForce 256 - setting it on its journey to become today's most successful dedicated graphics card maker.
Following the teasers' logic, we should expect some very interesting announcements from NVIDIA come August 31st, 2020 - and with Ampere around the corner, it's highly unlikely we'll be hearing about anything other than that.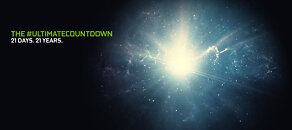 Return to Keyword Browsing