Introduction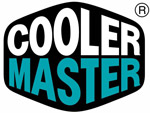 From the Cooler Master website:
Cooler Master was founded with the mission of providing the industry's best thermal solutions. Since its establishment two decades ago, the company has remained faithful to this mission, emerging as a world leader in products and services for companies dealing with devices where heat issues must be resolved.
Cooler Master is an industry leader when it comes to PC peripherals, cooling, cases, and power supplies. They have products in just about every conceivable category. With products that fit just about every need and price segment, everyone has become familiar with Coolermaster. Enthusiasts the world over have seen, heard about, or used their products.
Cooler Master's real claim to fame is due to their wide selection of cases, like the Cosmos and HAF series, that have garnered the attention of PC gamers all over the world. That said, their growing and evolving roster of cooling products are also taking off, with the Hyper 212 Plus and EVO having cemented themselves as some of the best options available in the crowded entry-level market where they offer some serious cooling performance for little cost. Other products, like the TPC 812, show Cooler Master's innovative side, taking vapor chamber cooling normally seen on GPUs and using it to cool today's hot running CPUs.
Not content to stick to the old methods of cooling, Cooler Master is now pushing into the AIO liquid cooler market with their Seidon line of products. I will, as such, be reviewing the Seidon 120XL today. It is the mid-range product of this lineup including the Seidon 240XL and 120m to fill out the enthusiast- and entry-level segments respectively. Let us get to it and find out just what the Seidon 120XL offers today's PC enthusiasts.
Specifications
MANUFACTURER:
Cooler Master
MODEL:
Seidon 120XL
SOCKET SUPPORT:
Intel: LGA775, LGA1150, LGA1155, LGA1156, LGA1366, LGA2011
AMD: AM2, AM3, AM3+, FM1, FM2
COLD PLATE:
Material: Copper
RADIATOR:
Dimensions: 150 mm x 120 mm x 38 mm
Material: Aluminum
FANS:
Dimensions: 120 mm x 120mm x 25 mm
Fan Speed: 600-2400 RPM
Fan Airflow: 19-86 CFM
Fan Noise: 19-40 dBA
Fan Static Pressure: 0.31-4.16 mm H2O
TUBING:
Low-permeability corrugated tubing
WARRANTY:
Two years
MSRP:
$89.99