Introduction
I would like to thank HEC for supplying me with the unit for review.
Founded as vehicle components manufacturer in 1979, HEC has grown to a supplier of PC components since 1989.
HEC is one of the world leading companies of computer housing and switching power suppply products with offices in the US, Germany, the UK, Japan, Spain and China. The companies headquarters are located in Taiwan.
HEC's core values are "High Quality", "Evolution" and "Commitment" - the first letters of these words form the company name. The company is able to produce 500,000 power supplies and 500,000 PC cases every month in a total of four factories.
This is our first PSU review, we have been trying a few things to give you all the information you need for your buying decision - if you have any comments or suggestions please use the "Discuss this article" link at the bottom of the page (registration is not required).
Packaging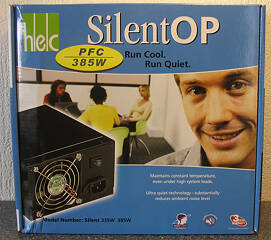 Box contents:
Power Supply Unit
Manual
Screw Package
Please note that the scratched away paint on top of the PSU is not a problem in retail versions. The package the samples were sent in had a few clamps going all the way inside.
Connectors
Main Power
5.25"
Floppy
4 Pin CPU
SerialATA
PCI-E Aux Power
ATX 20 Pin + 6 Pin Aux
6
2
1
1
-
Inside
If you open your PSU your warranty is gone. HEC has done a pretty good job to make sure no PSUs have been tampered with, opening it requires that you destroy two stickers because screws are hidden under them.
Looks all well cleaned up to me. A word of warning: the shorter heatsink will carry 220V when the PSU is switched on.