Introduction
We would like to thank noblechairs for supplying the review sample.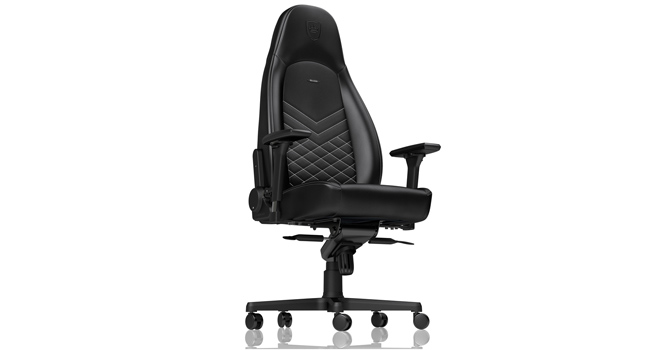 There are those who would purchase a gaming chair with an intense design just to feel as though they belong to a gaming club. However, not many would be able to properly single out a good chair of any particular category since its price would be their major concern while shopping. Some would think that an affordable and fancy-looking chair could actually be of good quality and comfortable at the same time. There are others, though, who would opt for an expensive chair believing that a high price tag would actually be representative of a chair's quality. However, the truth of the matter is somewhere in between and definitely depends on one's own needs.
noblechairs is a German company with only a few years in the gaming chair industry. However, their relatively recent founding hasn't been a negative thus far. So far, noblechairs has made its presence felt with three different entries in our review database as well, and is well-known for fabricating sophisticated chairs that take computer-/gaming chairs to the next level. Their newest series is dubbed "ICON" and comes with two different upholstery covers, each with its own price tag; the PU faux leather variant is sold for $369.90, and the real leather option costs more at $579.90. We have already
reviewed
their inventive ICON series design in real leather, which means it is now time we take a look at the PU faux leather version as well.
Its design the same, we expect the PU faux leather ICON to be as comfortable and made out of the same high quality materials as its real leather sibling, though it does use PU faux leather, of course, which has it come in at a much lower price.
noblechairs ICON PU Faux Leather Chair
Features & Specs
Model Number:
NBL-ICN-PU-BLA
Main Color:
Black
Stitching Color:
Platinum white
Upholstery Material:

100% Vegan Polyurethane (PU) faux leather

Frame Material:

Steel

Foam Density:

55%

Logos:
Black engravings and a black-on-silver aluminum emblem
Height of Seat's Base (from the floor):

48-58 cm (18.89-22.83")

Seat's Width (total):

56 cm (22.047")

Seat's Depth (total):

56.5 cm (22.24")

Total Height (from the floor):

128-138 cm (50.39-54.33 ")

Width of Backrest (pelvis):
56.5 cm (22.24")
Backrest's Height:
86 cm ( 33.85")
Adjustable Backrest:
Yes, for 90°-135°
Lumbar Neck Support:
Two pillows are provided
Adjustable Armrests:
Yes, 4D (up/down, left/right, front/back & swivel)
Armrests' Depth:

27 cm ( 10.62")

Gas Lift:
Gas Lift Class 4
Adjustable Tilt Resistance:
Yes
Rocking Mechanism:
Yes, at up to 11 degrees
Maximum Weight (user):
150 kg (330.7 lb)
Base Material:
Aluminum
Caster Wheels:
60 mm nylon/polyurethane
Gross Weight:
29 kg (63.93 lb)
Net Weight:
27 kg (59.52 lb)
Dimensions of the Package:
84 x 38 x 70 cm (33.07" x 14.96" x 27.56")
Warranty:
2 years
Price at Time of Review (excl. VAT):
$369.90