Introduction
We would like to thank QNAP for supplying the review sample.
QNAP always puts a lot of effort into introducing new products, which has kept the company at the forefront of the storage market. One of their most recent products is the TBS-453A NAS, a in some ways significantly different NAS server since its dimensions are very compact because of the M.2 SSDs it support. Internally, it can actually only accommodate M.2 SSDs. This might sound strange to many of you since NAS servers are supposed to have huge storage capacities, which is currently impossible with M.2 SSDs. You can equip this NAS with 1 TB M.2 drives at best, which will set you back a significant amount while resulting in a maximum capacity of 4 TB before the drives are formatted. A pretty low capacity, the TBS-453A isn't a server to store all your multimedia content. Its main purpose is to act as a mobile NAS you can carry around easily and store data you want to share with others in meetings, remote workplaces etc., on.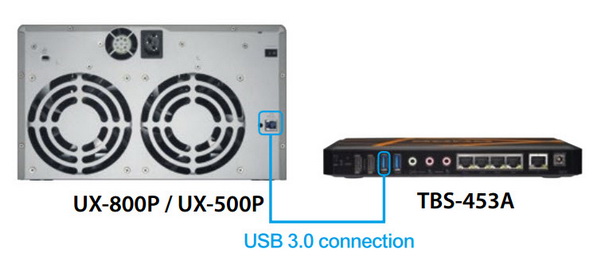 This NAS doesn't only come with such great multimedia features as its two HDMI connectors and transcoding capabilities or the remote control QNAP includes out of the box. It also has a built-in 4-port LAN switch for advanced virtual switch functionality. Should you want to expand this unit's pretty limited storage capabilities, you are given the option of connecting it to a QNAP UX-800P or UX-500P enclosure for a few additional HDDs. Those with a good voice can also use the TBS-453A as a karaoke system over the OceanKTV app. QNAP obviously put a lot of effort into making this NAS a portable and versatile all-around system. Reliability and data security being two key factors when it comes to NAS servers, our tests will also show just how reliable it is and whether its performance matches its rich feature set.