Introduction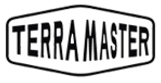 We would like to thank TerraMaster for supplying the review sample.
The first thing someone will take note of upon hearing of TerraMaster, or looking at their logo, is the name's and logo's resemblance to Cooler Master's. Such happenstance surely doesn't leave a good impression, but we aren't here to judge the brand's name or logo, but the product itself. Before we proceed to describe the product, it would probably be for the best to provide some more information on TerraMaster, a company not as well known as the key players when it to NAS servers (QNAP, Synology, Thecus, etc.).
In the "About Us" section of TerraMaster's site, we are told that the company belongs to Noontec. The latter is a brand belonging to an Australian company, EncomTech, an import and wholesale company specializing in computer storage, multimedia, enclosures, and mobile telephone accessories. EncomTech only deals with resellers, and it created Noontec to distribute its products nationally. A quick look at Noontec's site shows that it mostly deals with headphones, so we have NAS servers on one side and headphones on the other, which is admittedly an unusual combination.
TerraMaster states that it has sixteen years of experience in the field and that its main aim is to provide customers with excellent products that offer reliability and value. The company is promising a lot despite the heavy competition in the NAS market. In this review, we will take a detailed look at the F2-220, an affordable 2-bay NAS featuring a nice aluminum enclosure and a dual-core Intel Celeron CPU. In this price range, most offerings aren't equipped with Intel SoCs, which already puts TerraMaster's F2-220 at an advantage.