Introduction
When Tesoro brought out the
GRAM Spectrum
keyboard last year, it was a change from the norm and brought with it low-profile, doubleshot-injected keycaps with their so-called Agile switches that aimed to provide an experience similar to the Cherry MX Speed (Silver) switches. The keyboard was a success for them in terms of sales, but perhaps their experiment with low profile keycaps and their Agile switches did not do as well after all because the subsequent
Excalibur SE Spectrum
went back to the drawing board with standard-travel keys, and they now have optical switches as well, which were manufactured in a collaboration with Gateron. I liked the Excalibur SE Spectrum for the money, but their specific onboard controls for functionality and lighting did not age well, and a software driver would have been very handy even then. Tesoro decided to make a new addition to their GRAM series of keyboards instead, and today, we take a look at the new GRAM SE Spectrum. Thanks again to Tesoro for providing a review sample.
Gone are the low profile keycaps, but much is kept yet from the original GRAM Spectrum. We still have the two color options of black or white, with the white option pictured above given the sample I received. In addition, it comes in one of the two Tesoro-branded optical switch options as well - the linear red and clicky blue. Given this is 2017, it obviously also comes with full 16.8 M RGB backlighting, and there is a software driver to help with this. If you prefer onboard controls, fret not as this keeps that feature too. Let us dig deeper now with a look at the specifications below.
Specifications
Tesoro GRAM SE Spectrum Keyboard
Layout:
104-key full-size form factor in the US ANSI layout; other language support depending on your region.
Material:
Metal top plate, ABS plastic bottom panel and keycaps
Macro Support:
Yes
Weight:
1.19 kg / 2.62 lbs.
Wrist Rest:
No
Anti-ghosting:
Full N-Key rollover
Media Keys:
Available as a secondary function or re-assigned to keys from the driver
Dimensions:
136 (L) x 447 (W) x 33 (H) mm
Cable Length:
6.0 ft / 1.8 m
Software:
Yes
Switch Type:
Tesoro/Gateron optical red or blue switch
Backlighting:
Per-key 16.8 M RGB backlighting
Interface:
USB
Warranty:
One year
Packaging and Accessories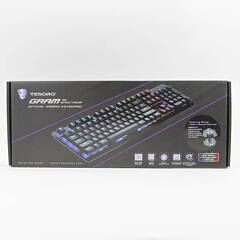 Tesoro's black and purple color scheme is visible front and center on the product packaging here, with an illustration of the keyboard on the front to go with the company and product name and its salient marketing features. This continues on the back and sides where we also see two double flaps that help keep the contents inside in place. A label on the side also alerts us to the particular permutation inside; a white keyboard with optical red switches.
Open the box and we see the keyboard itself in a plastic wrap, with the keyboard cable in the cardboard cutout compartment above. The keyboard is housed in a shaped cardboard piece such that it has the packaging cardboard all around it for protection - not the best I have seen, this setup will suffice provided the shipping packaging is done well. The provided accessories include the aforementioned cable, which is removable, as seen above, a multi-language manual (
online version here
), and another pouch that was next to the cable.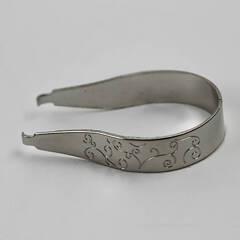 Knowing that the keyboard comes with optical switches, which usually can be taken off the PCB without soldering, I had asked Tesoro to include a few spare switches of the other switch variety than the one the sample came with. Tesoro then decided to do this for every retail unit regardless, but whoever packed my sample must have seen my request as there was a second, identical kit. So please note that customers will only get one of these consisting of a keycap puller, a switch puller, and four spare switches of the other kind - in this case the clicky blue ones. The keycap puller is of the usual ring-style variety, but the switch puller is a neat-looking metal one with engravings on its sides. As we also see, the blue switches have a dark blue stem with a Tesoro branding on their front. We will examine these switches in more detail in due time.