Introduction
Our sample was provided by
MadMoxx
. Thank you.
From the manufacturer
Zalman
:
Dimensions
91(L) x 126.4(W) x 30(H)mm
Weight
180g
Base Material
Pure Copper & Pure Aluminum
Bearing Type
2-Ball
Speed
1,350 ~ 2,650rpm ± 10%
Noise Level
18.5 ~ 28.5dB ± 10%
Compatible with
All cards that have mounting holes: ATI Radeon 9.... Series, ATI Radeon X... Series
NVIDIA Geforce4 MX Series,NVIDIA Geforce FX 5200,NVIDIA Geforce FX 5500,NVIDIA Geforce FX 5600(FX 5700),NVIDIA Geforce4 Ti 4... Series, NVIDIA Geforce FX 5700(Ultra) Series, NVIDIA Geforce FX 5800 Series, NVIDIA Geforce FX 5900 Series, NVIDIA Geforce FX 5950 Series, NVIDIA Geforce 6600 Series, NVIDIA Geforce 6800 LE Series, NVIDIA Geforce 6800 Series, NVIDIA Geforce 6800 GT Series, NVIDIA Geforce 6800 Ultra Series NVIDIA Geforce 6800 Ultra
Packaging
Box contents:
Front Heatsink Assembly
Eight VGA Ramsinks
Brace Plate
Instruction Manual
One bag of assembly parts: Two Nipples (A), Two Nipples (B), Four Bolts (A), Four Bolts (B), Six rubber Rings
Thermal Paste
Zalman Sticker
Fan power connector
The contact surface of the cooler clearly shows how the cooler is built. The fins of the central part are made of copper, the outer fins are made from aluminium. This mixed metal approach helps save cost and weight, while still maximizing cooling performance. Zalman also offers the VF700-Cu which uses full-copper instead of the aluminium fins, but at a higher price. A review of the VF700-Cu will follow soon.
The base finish is very flat and reflective. The 'knife test' shows only little light shining through.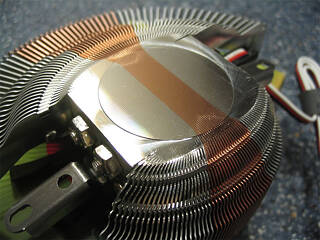 Installation
The installation process is very easy now, compared to previous products. Looks like Zalman has listened to the complaints. There are still very similar looking components which are easy to confuse. However, if you read the manual before starting the assembly, and make sure you understand exactly where all parts are going, you should be fine.
The manual could be improved a bit. Even though I suspected that you have to put a rubber washer between screw and PCB on each side, it took me a few minutes of looking to verify this from the images in the installation guide. [Matt sent word that his manual specifically says that the rubber washer needed to be on both sides of the PCB.]
The cooler uses no heatpipes which means it can be running in any possible up/down configuration. The only important thing is that hot air can somehow get away from the cooler, preferably through a case exhaust on the backside.
The included ramsinks are rather small, there is still plenty space left under the cooler. On the backside there is even more space, so I wonder why Zalman chose to use such small ramsinks. A reason is probably cost, since the same ramsinks are already sold with the ZM-80D.