Hey everyone,
Recently I bought a GTX 960 2GB for a nice price second hand for an eGPU project I was doing with my laptop. The eGPU works really nicely and I'm happy with the result.
However the GPU itself is quite intriguing. It's unbranded, seems to be really well built (sturdy shroud and fans with a really well made back plate) and GPU-Z confirms it's a real nvidia card. (I'll attach GPU-Z screenshots and pictures of the card). The previous owner said it came from a friend's pre-built machine, so the card is OEM. (Explains why the 'sub-vendor' is nvidia in GPU-Z).
Searching for the bios and device number both point to a few
Galaxy GTX 960 2GBs
with
this
one even having a very similar looking heat sink (with the one large chrome heat pipe visible). However the bios is slightly different, having the same 84.06.32.00 at the start but having a different code at the end; mine has '3D'. I don't know too much about bios's so this might be normal, or maybe the pre-built PC manufacturer gave it a custom bios for the different fans, or the different boost clock rate it has? The device IDs are exactly the same though. So maybe this is a customised Galax card? The specs mostly match up...
Even the brand of memory, Elpida, can be found on these Galax models.
Any help would be much appreciated! I know the card is genuine, just never seen one looking like this
anywhere
! (Kind of looks like an Asus shroud).
Thanks again.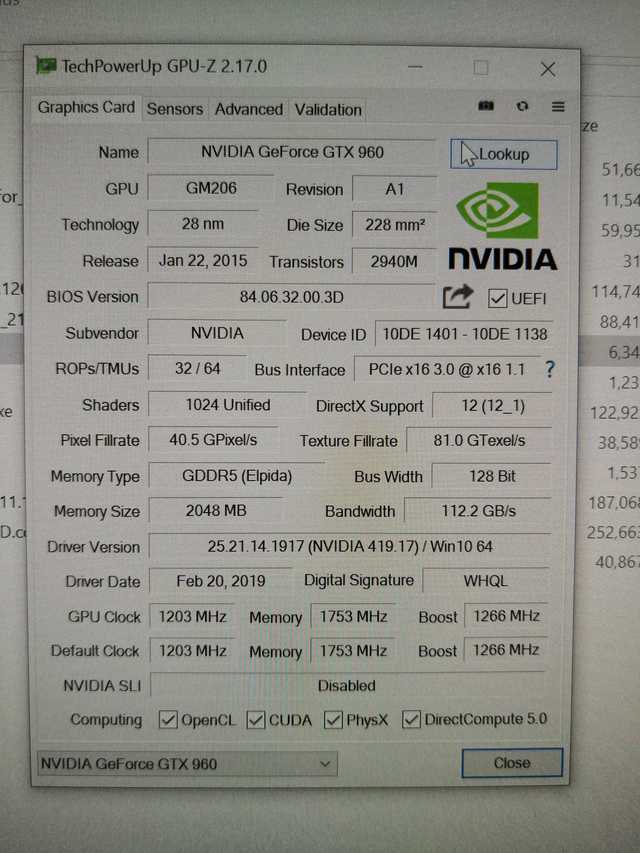 I can get better pictures of the card itself when I get home later. These are the photos of it that the seller sent me.
Last edited: