News Posts matching #4000 MHz
Return to Keyword Browsing
GIGABYTE TECHNOLOGY Co. Ltd, a leading manufacturer of motherboards and graphics cards, today presented two gaming systems of Intel Z590 platform with AORUS MODEL X and mini system AORUS MODEL S, which adopt the top-notch components and materials for extreme performance. Enhanced by the strict verification and leading technology, GIGABYTE provides the PC system of premium performance with optimized heat dissipation and acoustic control. The system maintains cool and quiet even under the overclocking, which balance the high performance and low temperature to keep the system acoustic under 40dB without throttling. Furthermore, the three-year warranty of full system offers reassuring and comprehensive service for users.

"When tackling the uplift of PC performance, multi-core, high frequency, and copious storage become a standard to the premium PC platform, as well as how to make the best components matrix to provide the optimized performance with reliability turns into more inevitable." indicated by Eddie Lin, Vice President of the GIGABYTE Channel Solutions. "The new AORUS system is well-tempered by multiple verification and tuning of GIGABYTE's R&D team, which provide a perfect match of cool, quiet, and powerful performance with optimized compatibility, Expandability, and three-year warranty of whole system.
Klevv, a subsidiary of SK Group, today announced two new DDR4 memory product lines - one with RGB flavoring, the other without. The Cras XR RGB features a metal heatspreader with a dotted pattern (42.5 mm height), topped by an RGB LED bar compatible with multiple RGB control software in the market (think ASUS Aura Sync, MSI Mystic Light Sync, and Razer Chroma RGB, among others). The Cras XR RGB is available in kits ranging from 8 GB single-stick through to 32 GB (2 x 16 GB) kits in multiple memory speeds; 3600 MHz with 18-22-22-42 timings @ 1.35 V (up to 2x 16 GB); 4000 MHz with 19-25-25-45 timings @ 1.40 V (up to 2x 8 GB) and 4200 MHz with 19-26-26-46 timings @ 1.40 V (up to 2x 8 GB).

The Bolt XR forgoes the RGB lighting and uses a textured metal heatspreader with black branding (36.7 mm height). The Bolt XR isn't available at the top 4200 MHz speed, though; it seems top performance is reserved for RGB enthusiasts. The only available speeds are 3600 MHz with 18-22-22-42 timings @ 1.35 V (up to 2x 16 GB) and 4000 MHz with 19-25-25-45 timings @ 1.40 V (up to 2x 8 GB). No word on pricing or availability was known at time of writing, though Klevv does offer a limited lifetime warranty for these modules.
G.SKILL, the world's leading manufacturer of extreme performance memory and gaming peripherals, is pleased to announce the release of new high-performance and high-capacity quad-channel memory kits for the latest Intel X299 and AMD TRX40 high-end desktop (HEDT) platforms, including the high-capacity DDR4-3600 CL16-19-19-39 256 GB (32 GB x8), DDR4-4000 CL18-22-22-42 256 GB (32 GB x8), and the high-speed, low-latency DDR4-4000 CL15-16-16-36 64 GB (8 GB x8) specifications. By bringing ultra-high 32 GB memory module capacity into the realm of HEDT computing, powerful workstations are now truly able to achieve a complete combination of high core count processor with high-speed, high-capacity memory for heavy workloads or for running more virtual machines than ever.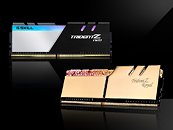 Return to Keyword Browsing