News Posts matching #MI60
Return to Keyword Browsing

Taiwan External Trade Development Council (TAITRA) announced today that the 2019 COMPUTEX International Press Conference will be held with a Keynote by AMD President and CEO Dr. Lisa Su. The 2019 COMPUTEX International Press Conference & CEO Keynote is scheduled for Monday, May 27 at 10:00 AM in Room 201 of the Taipei International Convention Center (TICC) in Taipei, Taiwan with the keynote topic "The Next Generation of High-Performance Computing".
"COMPUTEX, as one of the global leading technology tradeshows, has continued to advance with the times for more than 30 years. This year, for the first time, a keynote speech will be held at the pre-show international press conference," said Mr. Walter Yeh, President & CEO, TAITRA, "Dr. Lisa Su received a special invitation to share insights about the next generation of high-performance computing. We look forward to her participation attracting more companies to participate in COMPUTEX, bringing the latest industry insights, and jointly sharing the infinite possibilities of the technology ecosystem on this global stage."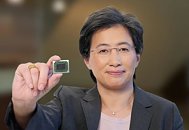 AMD's upcoming Radeon VII high-end consumer graphics card lacks full FP64 compute capabilities available to the company's other products targeting the enterprise-compute market, such as the Radeon Instinct MI60. Radeon VII offers an FP32 peak compute throughput of 13.8 TFLOP/s single-precision, which, given its hardware resources, should normally work out a double-precision throughput of 6.7 TFLOP/s. However, with the feature disabled for the Radeon VII, the FP64 throughput will be closer to 860 GFLOP/s. Disabling FP64 capabilities for client-segment graphics cards is a common practice among both AMD and NVIDIA.
For gamers, PC enthusiasts, and even creative professionals, double-precision floating-point performance of a graphics card remains completely irrelevant. The disabling of DPFP ensures gamers have access to Radeon VII, lest every cloud compute provider and their dog would soak up Radeon VII inventory owing to its $699 list price, had it offered 6.7 TFLOP/s rivaling compute accelerators 10-15 times more. Radeon VII is the world's first consumer graphics processor built on the 7 nm silicon fabrication process, with company-claimed performance rivaling NVIDIA's RTX 2080. It will be available from February 7.

AMD today announced the AMD Radeon Instinct MI60 and MI50 accelerators, the world's first 7nm datacenter GPUs, designed to deliver the compute performance required for next-generation deep learning, HPC, cloud computing and rendering applications. Researchers, scientists and developers will use AMD Radeon Instinct accelerators to solve tough and interesting challenges, including large-scale simulations, climate change, computational biology, disease prevention and more.

"Legacy GPU architectures limit IT managers from effectively addressing the constantly evolving demands of processing and analyzing huge datasets for modern cloud datacenter workloads," said David Wang, senior vice president of engineering, Radeon Technologies Group at AMD. "Combining world-class performance and a flexible architecture with a robust software platform and the industry's leading-edge ROCm open software ecosystem, the new AMD Radeon Instinct accelerators provide the critical components needed to solve the most difficult cloud computing challenges today and into the future."
Return to Keyword Browsing