News Posts matching "Oland"
Return to Keyword Browsing
AMD's Radeon HD 8000 "Sea Islands" family of GPUs may arrive some time in Q2-2013, but they won't arrive without a specifications overhaul. While NVIDIA is counting on performance enhancements to come out of higher clock speeds on existing silicon, while maintaining current (or lower) power-draw, with its "Enhanced Kepler" family of GPUs that will include the "GK110" juggernaut, AMD is counting on physically bigger chips with more components. AMD could step up transistor counts of its chips by as much as 20 percent, on existing 28 nm process.

According to a report, the biggest chip from AMD's fold could pack 5.1 billion transistors, amounting to 2560 stream processors, and an updated raster processing engine, with 48 ROPs ("Tahiti" has 32). While the Radeon HD 8970 maxes out the chip's capabilities, the HD 8950 could feature 256 fewer stream processors, at 2304. It could also go light on the clock speeds. AMD's performance-segment chip, codenamed "Sun" could see a similar stream processor increase to 1792, with the Radeon HD 8870 maxing it out, and HD 8850 featuring 1536. It maintains the memory bus width and raster engine layout of its predecessor.
Apparently, launch of AMD's Radeon HD 8800 series is close enough for some sources to come up with specifications. The HD 8800 series, according to one source, is based on a new silicon codenamed "Oland," which is built on the 28 nm process, packing 3.4 billion transistors with around 270 mm² die-area. According to the source, the two HD 8800 series models, the HD 8870 "Oland XT" will up performance per Watt and cost-performance ratios over current HD 7800 series, while maintaining current process technologies.
The Radeon HD 8870, according to numbers provided by the source, could offer performance comparable to today's high-end GPUs. The HD 8870 is clocked at 1050 MHz with 1100 MHz PowerTune Boost frequency; while the HD 8850 is clocked at 925 MHz with 975 MHz boost frequency. The memory of both SKUs is clocked at 6.00 GHz, yielding 192 GB/s memory bandwidth. The chips hence have 256-bit wide memory interfaces.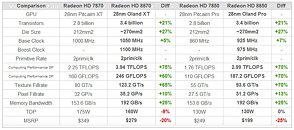 Return to Keyword Browsing