News Posts matching "Polk"
Return to Keyword Browsing
Polk , a high-performance audio brand with 40 years of sound, engineering and design expertise, continues its journey of bringing great sound to the gaming world with the debut of the Striker headset at E3 2014, the Electronic Entertainment Expo. The Striker, which is designed for next-gen gaming platforms, raises the bar for gaming headsets by offering gamers audiophile-grade sound performance in a well-constructed, affordable and attractive design.
"With the Striker, our goal is to fill a void in the gaming headset market by offering an affordable headphone option that delivers dynamic sound during all aspects of a game--whether it's dialogue between characters or an intense action sequence," said Mark Suskind, vice president of user experience at Polk. "As we continue to make significant investments in gaming, all of our supporting innovations will be designed to enhance and expand the rich, multifaceted audio elements within games played on any console."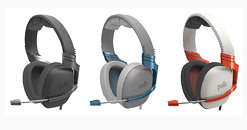 Polk, a high-performance audio brand with 40 years of sound, engineering and design expertise, today announced the retail availability of Melee, a gaming headset created for the Xbox 360 console, and the N1 sound bar which offers an immersive soundstage for gaming and entertainment across all gaming platforms including the new Xbox One. As Microsoft's Xbox 360 continues to be one of the top-selling consoles, the Melee and N1 are both custom engineered to immerse gamers in the worlds of their favorite Xbox games while delivering epic sound.
Polk has also extended its partnership with Microsoft through the end of 2014, creating additional opportunity for product development and deepening Polk's presence in the gaming category. The extension will open the doors for continued collaboration between Polk's sound engineers and Microsoft's 343 and Turn 10 Studios, who worked closely over the past year to create the perfect acoustic landscape for Xbox game play on the Halo and Forza game franchises.
Return to Keyword Browsing