News Posts matching #Rogue In-Flight Data Load
Return to Keyword Browsing
AMD in a statement confirmed that its processors are unaffected by the RIDL (Rogue In-Flight Data Load) and Fallout vulnerabilities. The company however worded its statement in CYA language, just to be safe. "...we believe our products are not susceptible to 'Fallout' or 'RIDL' because of the hardware protection checks in our architecture. We have not been able to demonstrate these exploits on AMD products and are unaware of others having done so," reads the AMD statement put out late Tuesday (14th May).
AMD came to these conclusions on the basis of its own testing and discussions with the researchers who discovered RIDL. It's important to note here, that the "Fallout" vulnerability AMD is referring to in this statement is the one which is part of
four MDS vulnerabilities
Intel disclosed yesterday, and not the identically named
"Fallout" vulnerability
discovered by CTS Labs in 2018, allegedly affecting secure memory management of AMD "Zen" processors.
Ouch doesn't even begin to describe how much that headline hurt. As far as speculative execution goes, it's been well covered by now, but here's a refresher. Speculative execution essentially means that your CPU tries to think ahead of time on what data may or may not be needed, and processes it before it knows it's needed. The objective is to take advantage of concurrency in the CPU design, keeping processing units that would otherwise be left idle to process and deliver results on the off-chance that they are indeed required by the system: and when they are called for, the CPU saves time by not having to process them on the fly and already having them available.
The flaws have been announced by Intel in coordination with Austrian university TU Graz, Vrije Universiteit Amsterdam, the University of Michigan, the University of Adelaide, KU Leuven in Belgium, Worcester Polytechnic Institute, Saarland University in Germany and security firms Cyberus, BitDefender, Qihoo360 and Oracle. While some of the parties involved have named the four identified flaws with names such as "ZombieLoad", "Fallout", and RIDL, or "Rogue In-Flight Data Load", Intel is using the PEGI-13 "Microarchitectural Data Sampling (MDS)" name.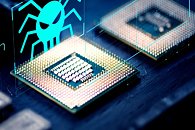 Return to Keyword Browsing