News Posts matching "Urbanears"
Return to Keyword Browsing
Humlan is a brand new concept in headphones from Urbanears. Just like your favorite t-shirt, Humlan's headband and ear cushions can be removed and thrown in with the wash. Your listening experience is guaranteed to be fresh and clean, even if the music you listen to is not. Because Humlan belongs to the Urbanears family, it also comes with some handy features like the ZoundPlug for instant music sharing and a microphone and remote for picking up calls and hands-free talking.
The Urbanears Humlan is available now for $49 at Urbanears.com.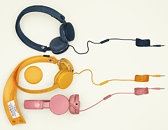 Urbanears heads westwards to the American frontier for the latest Plattan Edition, teaming up with Pendleton Woolen Mills to create a one-of-a-kind listening accessory. The Plattan Pendleton Edition is the fifth headphone to be launched under the Urbanears Editions line of headphones.

The Urbanears Plattan Pendleton Edition brings a long-standing American tradition to headphones. Cloaked in inimitable Pendleton fabric made from lightweight, pure virgin wool, the Plattan Pendleton Edition features a unique and intricate pattern that's inspired by Native American blankets and textiles. Make your everyday listening experience a statement with Pendleton's timeless design, and keep your ears nice and cozy too.
Return to Keyword Browsing