News Posts matching #chia
Return to Keyword Browsing
In recent years, the cryptocurrency market has been gaining a great deal of attention, leading to a continuous surge in global mining. Chia, started trading in May, is one of the new types of cryptocurrencies. Its mining method is different from previous cryptocurrencies that use GPUs and ASICs to complete calculations and earn profits. The everlastingly durability EXPERT PCIe SSD, developed by TEAMGROUP's creator sub-brand T-CREATE, is the best choice for the environmentally-friendly "storage capacity mining" that Chia promotes.

The Chia Network utilizes a consensus algorithm called "Proof of Space and Time." A Chia farmer's possible yield is directly proportional to their amount of storage space. If you want to earn higher profits today, you need to have more hard drive space. This approach ensures that no one will design special-purpose hardware (ASIC) for mining it. Storage capacity and power consumption are also relatively unrelated. Therefore, Chia Network is a new "green" currency system. If you want to join the mining community utilizing this environmentally-friendly model, T-CREATE EXPERT PCIe SSD can help you get the greatest results. It features spectacular TBW values of up 12,000 TB, making it the perfect tool for supporting the intense write-cycle algorithms required for the mining process.
A new cryptocurrency going by the name of Chia could bring about a boom in demand for HDD and SSD, which have been kept relatively untouched by the latest mining and supply constraints. However, optimistic predictions of falling prices for NAND (optimistic for consumers, that is) could prove to be erroneous. Apparently, the new cryptocurrency, which saw its whitepaper being published in February 9th and has already led to shortages of high-performance SSDs from China's Jiahe Jinwei.
The cryptocurrency was designed to be mined in SSDs and HDDs, looking to cut on electricity cost from proof of Work (PoW) cryptocurrencies such as Bitcoin and (still) Ethereum. The intention is for the cryptocurrency to have as broad an appeal as possible, by excluding the need for prohibitive investments in either ASICs (for Bitcoin) or GPUs (for Ethereum and other Dagger/Hashimoto-based calculations). It also leverages that which is most widely available and oftentimes left empty of any workload - storage space. Due to this, it's been reported that Chinese miners are already buying HDDs (4 TB through to 18 TB) and SSDs (mainly NVMe solutions) in bulk. This could prevent technologists from ushering in the current trend of falling storage pricing - if demand becomes as crazy as it has become in the GPU space.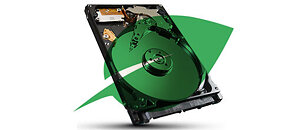 Return to Keyword Browsing