Packaging and Accessories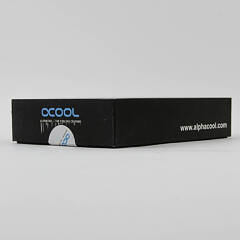 Alphacool's product packaging has generally improved greatly with the whole Eis-overhaul, and the Eisblock XPX is no exception. The box uses a thick two-piece cardboard design with the company and product name on the front alongside a product illustration showing the metal frame versions in two colors. On the back is a taped warning for some specific Intel HEDT platform motherboards and how to best install the block on them, along with certifications and information clarifying that the block was designed in Germany and manufactured in China. There are two seals on the sides that help keep the packaging intact which need to be broken to access the contents inside.
Opening the box, we are greeted by an instruction booklet that is the manual for installation on all compatible CPU sockets (
online copy here
). It comes with details in English and German, but is not very good in actually describing each step, especially to a novice user. Note also that some things are specific to the metal frame/plastic top version and not the full nylon top versions I have here. The other accessories come packaged inside a large zip-lock pouch, with more pouches to help label and separate the various items inside.
The first such set includes a bag of Gelid GC Extreme thermal paste, which is enough for 2–3 applications on even larger CPUs, spare O-rings for the block, which is a nice touch and will help prolong the life of the block, especially if disassembled, metal nuts, washers, and springs to be used during installation, as well as rubber covers and screw caps for aesthetics if you don't like the industrial look of exposed screw heads. The Intel-marked pouch contains the two-piece Intel mounting bracket, an Intel socket backplate, and two sets of four mounting posts for LGA 115x and LGA 2011(-3)/2066. The AMD-marked pouch has the two-piece AMD mounting bracket, mounting posts for the supported AMD sockets, as well as an adapter kit and instructions for the newer AM4 socket. After all, the block was originally designed before AM4 was public! The block itself is shipped surrounded by thick foam to ensure it arrives in perfect condition.