Introduction
AMD recently released their Radeon HD 6900 Series which delivers high-end 3D performance based around the new Cayman GPU. The new Series boasts improvements in power consumption while increasing performance over last generation. Most noteworthy, however, is the possibility to unlock a Radeon HD 6950 into a HD 6970 by a simple BIOS flash.
With the Radeon HD 6950 1 GB AMD introduces a new HD 6950 variant that is more cost effective than the 2 GB version. The price difference is about $40, just for 1 GB less memory, all other specs have remained the same. So the big question is: Will the reduced memory size affect performance?
Radeon
HD 6850
Radeon
HD 5850
GeForce
GTX 470
Radeon
HD 6870
Radeon
HD 5870
Radeon
HD 6950
Radeon
HD 6950 1 GB
GeForce
GTX 570
GeForce
GTX 480
Radeon
HD 6970
GeForce
GTX 580
Shader units
960
1440
448
1120
1600
1408
1408
480
480
1536
512
ROPs
32
32
40
32
32
32
32
40
48
32
48
GPU
Barts
Cypress
GF100
Barts
Cypress
Cayman
Cayman
GF110
GF100
Cayman
GF110
Transistors
1700M
2154M
3200M
1700M
2154M
2640M
2640M
3000M
3200M
2640M
3000M
Memory Size
1024 MB
1024 MB
1280 MB
1024 MB
1024 MB
2048 MB
1024 MB
1280 MB
1536 MB
2048 MB
1536 MB
Memory Bus Width
256 bit
256 bit
320 bit
256 bit
256 bit
256 bit
256 bit
320 bit
384 bit
256 bit
384 bit
Core Clock
775 MHz
725 MHz
607 MHz
900 MHz
850 MHz
800 MHz
800 MHz
732 MHz
700 MHz
880 MHz
772 MHz
Memory Clock
1000 MHz
1000 MHz
837 MHz
1050 MHz
1200 MHz
1250 MHz
1250 MHz
950 MHz
924 MHz
1375 MHz
1002 MHz
Price
$180
$260
$260
$240
$360
$275
$235
$330
$450
$370
$500
The Card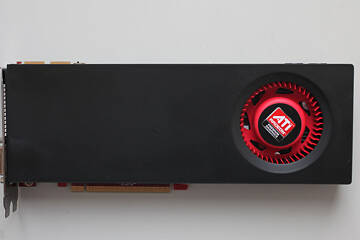 Visually AMD's HD 6950 1 GB looks exactly the same as the 2 GB variant, all changes were done under the hood.
The card requires two slots in your system.
The card has two DVI ports, one full size HDMI port and two mini-DisplayPort outputs. AMD's display output logic is clearly superior to what NVIDIA has to offer at this time. Vendors are free to combine six TMDS links into any output configuration they want (dual-link DVI consuming two links) - and use them all at the same time. AMD has also introduced DisplayPort 1.2 support with their new cards which allows the use of a DisplayPort hub to connect multiple monitors, or daisy chain them together.
An HDMI sound device is also included in the GPU. The HDMI interface is HDMI 1.4a compatible which includes Dolby TrueHD, DTS-HD, AC-3, DTS and up to 7.1 channel audio with 192 kHz / 24-bit output. The new revision also brings support for Blu-ray 3D movies which will become important later this year when we will see first Blu-ray 3D titles shipping.
You may combine up to four HD 69xx cards from any vendor in CrossFire.
Here are the front and the back of the card, high-res versions are also available (
front
,
back
). If you choose to use these images for voltmods etc, please include a link back to this site or let us post your article.
A Closer Look
AMD's heatsink uses a Vapor-Chamber Technology cooler with a large copper base. The thermal paste used is the same as on the HD 6990, a phase-change material that has the consistency of hard wax when cooled off but gets soft with higher temperatures.
The card has two 6-pin PCI-Express power connectors which are specified up to 225 W power delivery.
Like on the AMD HD 69xx reference designs, a BIOS switch is present which lets you select between the original BIOS and a backup BIOS in case something goes wrong with a BIOS flash. Combined with the HD 6950 to HD 6970 modding potential this makes an unbeatable combo because it's almost impossible that you screw up enough to end up with a $250 paperweight.
The GDDR5 memory chips are made by Hynix, and carry the model number H5GQ2H24MFR-T2C. They are specified to run at 1250 MHz (5000 MHz GDDR5 effective).
AMD is using a new voltage controller on their 1 GB card. While the HD 6950 / 6970 2 GB uses a Volterra VT1556, the 1 GB version uses a VT1586. Unfortunately this controller is not supported in any OC software - yet.
AMD's Cayman graphics processor is made on a 40 nm process at TSMC Taiwan. It uses approximately 2.64 billion transistors on a die area of 389 mm².