Test System
Test System - VGA Rev. 40
Processor:
Intel Core i7-6700K @ 4.5 GHz
(Skylake, 8192 KB Cache)
Motherboard:
ASUS Maximus VIII Hero
Intel Z170
Memory:
G.SKILL 16 GB Trident-Z DDR4
@ 3000 MHz 15-16-16-35
Storage:
WD Caviar Blue WD10EZEX 1 TB
Power Supply:
Antec HCP-1200 1200W
Cooler:
Cryorig R1 Universal 2x 140 mm fan
Software:
Windows 10 64-bit
Drivers:
NVIDIA: 358.50 WHQL
AMD: Catalyst 15.10 Beta
Display:
Acer CB240HYKbmjdpr 24" 3840x2160
Benchmark scores in other reviews are only comparable when this exact same configuration is used.
Graphics Memory Usage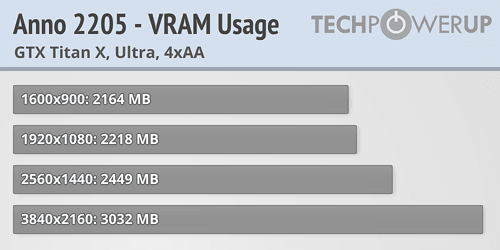 Performance
In general, the Ultra preset is quite demanding, but looks fantastic as well. Unlike first-person shooters, you don't need to have very high frame rates all the time. Drops down to around 30 FPS are barely noticeable.
NVIDIA cards seem to be doing much better in Anno 2205 than cards from AMD, which AMD's upcoming Crimson Edition drivers will hopefully address.