Packaging and Contents
The front of the ASRock X470 Taichi Ultimate's box is a metallic silver with a graphic I would best describe as "watch-like" on top and the Taichi Ultimate name and compatibility badges at the bottom. This curved silver section of the box is, in fact, a flap held in place with a bit of Velcro. Opening the flap reveals a clear section showing off the lower half of the board.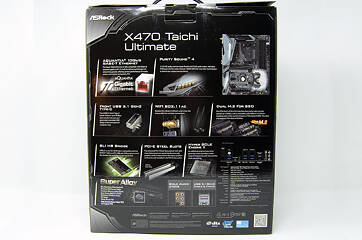 The back of the box is a myriad of highlighted features, and features abound on the ASRock X470 Taichi Ultimate. In the bottom-right corner is a graphic of the rear I/O and a concise specifications list, which I believe to be two essential features in a motherboard's package design. While these essential graphics are smaller than on some other boards, the sheer number of features the ASRock X470 Taichi Ultimate has to advertise justifiably sidelines the more mundane information.
The overall packaging of the ASRock X470 Taichi Ultimate looks and feels premium, and the aesthetic of the box closely matches the board it contains.
Inside the ASRock X470 Taichi Ultimate box are two more boxes. The top one is actually a tray containing the board zip-tied into protective foam. The second box contains all the expected accessories. To be honest, this package configuration is not my favorite since pulling the motherboard tray out and putting it back inside without pulling the accessory box out can be a little tricky. It is secure, and frankly, most users won't be keeping the board in the box after they open it.
The included accessories for the ASRock X470 Taichi Ultimate are what I would expect them to be for a board of this caliber. Aside from the expected items, like SATA cables and WiFi antenna, there is also an included SLI hard bridge and a postcard. The rear I/O shield is colored black, a feature I wish was more common. The full list of accessories includes:
Manual and support DVD
1x Rear I/O cover
4x SATA 6 Gb/s cables
2x WiFi antenna
2x M.2 mounting screws
1x SLI hard bridge
1x ASRock sticker and postcard